Series & Game Recap: Diamondbacks 10, Cubs 0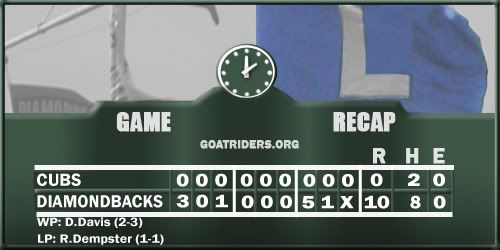 There's a downside to having a Cubs blog that actively covers the Cubs. That downside is this - if we are writing Series Previews, GameCasts, and Game Recaps to every game - and so far it's usually been me with a sprinkle of Jason and a dash of Yarbage doing all that - then we're essentially committing around 1,000 words daily to the team. If they suck, that means we're writing 3 pages a day about a team that sucks. If I instead chose to dedicate my life to writing 3 pages of fiction every day for the duration of the baseball season, then I would roughly have a Stephen King-sized book written by the time October rolls around.
So maybe I have something invested in the Cubs not being a bad team, which would explain why I stubbornly have been ignoring the signs.
Yesterday's theme was basically: the Cubs need to get consistent! Yesterday's game exemplified that theme - a day after blowing the D-Backs out of the water with an offensive barrage, the Cubs promptly got shut down and gave up 10 runs. But much as the Yankees were recently slammed by the Indians - who scored better than 20 runs against New York - whether the Cubs lost by 1 run yesterday or 10, it still only counts as one loss in the standings.
In my mind, here are the relevant issues with the consistency problems.
1. Poor ability to adapt. Most teams are built to handle a number of scenarios. It's not uncommon in a National League game to see Team A call on a lefty reliever, only for Team B to respond with a righty hitter, only for Team A to respond with a righty pitcher and so-on. But on a team that has a recent history now of carrying an extra pitcher, the team's adaptability is excessively poor - especially if some of your regulars are hurt, or slumping, and the majority of your backup hitters only know how to play outfield. I blame Jim Hendry for his continued obsessive-compulsive desire to load up on one position each winter and Lou Piniella for chosing those players to fill out the 25-man roster at the start of the season.
2. Poor performance. Yesterday's keen example was Ryan Dempster. As a paragon of patience, a warrior of waiting, a courier of caution, an example of etcetera., of all the players on the Cubs Dempster has me the most worried. Generally a player who has a ridiculous career year like his in '08, who then gets a huge contract extension for 4 years ... well, these guys aren't necessarily always going to pay off. Last year Dempster had the tremendous ability to get himself into and out of numerous situations via walks, ground-outs, and so-on. This year his walks have been hurting him and he's been lit up more than a cigarette lighter at a Metallica concert. On the surface 6 hits and 3 walks in 6 innings of work don't appear to be the worst numbers in the world, but 5 earned runs in those 6 innings? Do I need to say how NOT GOOD that is?
Last night, Carlos Marmol also joined the ranks of inconsistent performance. In his first game back from the leg injury he gave up 4 earned runs and managed to get only 1 out. My Caustic Cubdar (kind of like gaydar, but not about my keen ability to identify homosexuals) leads me to think that his leg is affecting his delivery which is affecting his performance which is affecting the suicidal tendencies of high-strung Cub fans. A crazy thought I'd like to implant in the mind of Lou Piniella: Caution Is Not Bad. Exclamation point! Your best reliever sprains his knee? Disabled list! Your injury-prone right fielder has a sore groin? Disabled list! Your third baseman hurts his leg? Disabled list!!!!
(Note: The Cubs are actually thinking about doing that with Rammy, placing him on the DL. I wonder who they'd call up to replace him ... maybe Jake Fox?)
A few days ago one pessemist asked, what happens if all the underperformers never perform in '09? Well, if that happens it would be historic. I'm hardly a probability expert, but mathematically speaking if something is possible it will happen given enough time and space. Since space and time are both essentially infinite, then that means that anything that could happen will happen eventually. But I'm not sold on 2009 being the year where half the Cubs lineup mysteriously gives up the ghost at the same time.
In other words, things will get better. Maybe they'll sort themselves out, or maybe they will require active puzzle-placement by Hendry and Piniella, but a little bit of tinkering to get the "sorting" portion started would not be a bad thing in my opinion.
Tonight the Cubs take on the Fish. Jason says he'll do the Series Preview, but the graphics might be a little late since I've got to go try on tuxedos.
Current Record: 10-10
Position in the NL Central: 5th place, 4 games out of first
Best Possible Record: 152-10
Worst Possible Record: 10-152
Record needed to win 110: 100-42
On Pace For: 81-81
Quick Links
Series Preview: Cubs at Arizona
Game Recap: D-Backs 7, Cubs 2
Game Recap: Cubs 11, D-Backs 3