Game Recap: Diamondbacks 7, Cubs 2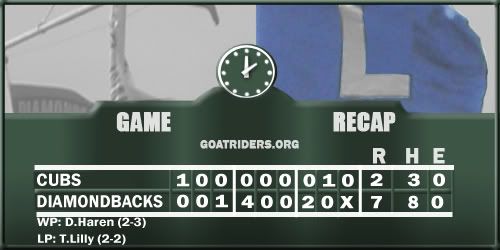 (Please ignore my error regarding the number of errors made by Cubs fielders).
Somebody said in the shoutbox yesterday that the Cubs offense has the swine flu. I think it's just more that they are very anemic right now and they happened to face an incredibly talented pitcher in Dan Haren.
Haren held the Cubs to only 3 hits - 2 of which were not contained by the ballpark (thank you Fonz and Font) wheras Ted Lilly was a victim of his own undoing. The Roos (note: that nickname probably won't stick) was mostly undone by an ugly 4th inning in which he clogged the bases in part due to two walks and surrendered back-to-back doubles to Haren* and Chris Young.
(*Do I even have to repeat the well-known rule of never letting the pitcher beat you at the plate**?)
(**Unless it's Carlos Zambrano, at which point it's expected)
Dave Patton continued to seal his demise with an ugly 2 run (1 earned) relief outing, but at least Jeff Samardzija came in and struck out 2 in his inning of relief.
This would normally be the part where I climb high atop my horse and remind everybody to relax, but I think I've pretty much beaten that high horse to death already. Instead I will just point out that the Cubs were squaring off against a very talented pitcher with a lineup that is limping-at-best. The team was without Lee, Ramirez, Bradley, and Soto remains GeoINO, or "In Name Only." Incidentally the ridiculous number of steals taken against Geo is additional evidence that he's not 100%, and Mike Fontenot's 2 errors at third base is additional proof that maybe the Cubs should actually consider fielding a real backup third baseman. Later today I'll write an "easy roster solutions" article that somebody should post on Lou's office door.
Anyway, today's game is another late starter but now that the Cubs are past the best pitcher I would expect a slightly improved response from the hitters.
Quick Links
Series Preview: Cubs at Arizona
GameCast: April 27th - Cubs vs. Diamondbacks