Game Recap: Cubs 11, Diamondbacks 3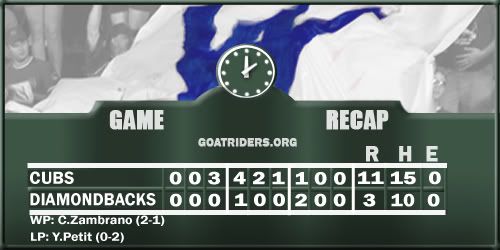 Carlos Zambrano demands an explanation!
The Big Moose also came extremely close to hitting for the cycle - he was just a triple short, and had he gotten an at bat in the 7th inning you just know that he would've stretched his legs to get it. I suppose this is the type of game where you'll often hear "Zambrano didn't have his best stuff but he delivered a solid performance nonetheless." They'll be saying that because through 7 innings of work he only struck out 3. The thing is, I don't believe that really demonstrates how good or mediocre his "stuff" was, because when Carlos struggles - even when he can contain the damage - he gives up lots of walks and, last night he only walked 2.
The offense, on the other hand, was apparently looking to make up for lost time. Every Cub regular got a hit - including Milton Bradley, who in fact did make his return. 6 of the 9 starters also managed to drive in runs. But if you're wondering what was the biggest reason for this breakout, I have one suggested reason: patience at the plate. On top of their 15 team hits, the Cubs drew 6 walks - 3 from Fukudome - and they took advantage of big opportunities. Alfonso Soriano had a rare runners-on situation and he capitalized with a 3-run homer, his second in as many days. Speaking of "second in as many days," Fontenot hit another homerun too. Don't look now but his batting AVG is rising.
Three Finger Hill started in place of GeoINO Soto and delivered a 3 for 5 performance, raising his AVG to .370 on the year. I still think Soto should spend some time on the DL or something, and Hill appears capable of filling in for a while. Oh, and lastly, Angel Guzman pitched 2 innings of shutout relief lowering his season ERA to 4.35. Maybe I was a little abrupt about him needing to be cut and I for one am willing to let him pitch for a while longer to see if he can get steady and consistent.
The Cubs play for the series win tonight. So far their offense has been excessive-hit or complete-miss and they have not been able to consistently produce numbers night after night. Maybe it's high time for a change about that.
Quick Links
Series Preview: Cubs at Arizona
Game Recap: D-Backs 7, Cubs 2
GameCast:Cubs at Arizona April 28th