Series Preview: Chicago Cubs at Arizona Diamondbacks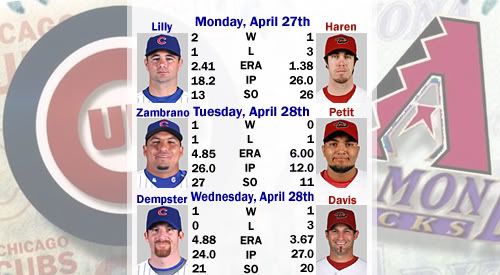 Overview
By now you probably have a pretty good grasp on my opinion about the 2009 season and the people who are already thinking about abandoning it. So rather than go over a tired topic - albeit one that's always good for discussion - I'll do something that we probably need a little more of here at GROTA: recent Cubs news.
The Theriot experiment is apparently over with at least for now. The Sun-Times reports that Lou will be batting the Fonz leadoff again for the foreseeable future - perhaps the pitch Alfonso took to the head recently has caused him to forget how to bat anywhere but cleanup. But speaking of injuries, the Sun-Times also reports that neither Aramis nor Marmol are hurt seriously, which is good since they are apparently intent on not placing anybody on the DL for the forseeable future.
Nothing quite like entering a series with a struggling, short-handed squad.
Your favorite and mine Carrie Muskat has an article about the struggles of Geovany Soto. It's a little early to worry about Soto becoming a Servais (Servias? too lazy to look it up), but a sophomore slump is not shocking.
And lastly Goat Friend Paul Sullivan notes that Carlos Zambrano took some infield practice "just in case," but he's about as likely to be used in that situation as you or I am. Oh, and the Herald reports that ex-Cub legend Tuffy Rhodes - for whom it cannot be confirmed that he ever dated Punky Brewster - has hit his 450th career homerun in Japan. Hey, good for him. I read somewhere that when Doc Gooden gained word of Tuffy's feat, he attempted to inject cocaine into his eyeball. Anyway, on with the show:
Monday, April 27th - Ted Lilly vs. Dan Haren
Theodore Roosevelt Lilly - aka Hannibal - is off to a much better start this year than he was last year. Probably the most impressive thing is that in 18.2 innings, he's surrendered only 14 hits and 2 walks. You know, it's pretty impressive to see what Lilly's done since coming to Chicago. I think most of us were happy with his signing (although how many of us idiots hungered for Zito?) but nobody could have expected 15 and then 17 wins in his first two seasons.
Dan Haren, meanwhile, is quietly one of the better #2 pitchers in baseball. He pitches behind Brandon Webb on the 'backs and doesn't get much attention (at least from me) but since he became a regular starter in 2005, Haren has consistently pitched between 216 and 223 innings while winning 14 to 16 games and posting ERAs as low as 3.07 and no higher than 4.12. Oh, and did I mention his fantastic K/BB ratio? Regardless, he's only faced the Cubs once in the regular season since 2006 and that year he somehow managed to allow only 2 runs in 7 innings and he still ate the loss. I'm sure the Cubs are hoping for a better showing tonight.
Tuesday, April 28th - Carlos Zambrano vs. Yusmeiro Petit
The good news about Carlos: through 26 innings of work, he's allowed only 11 walks while striking out 27. The bad news: he's tossed more than his share of fatties and has already surrendered 28 hits and 4 homeruns. The better news: he's a flippin' animal!
Yusmeiro Petit, meanwhile, a fellow countryman of Carlos, has a ridiculous name. Just sayin'. At this point he's pitched through 151.2 innings in his career, with an ERA of 5.46, a 7-11 record, and he also lacks the rage of his Venezuelan brother Carlos Zambrano. Also he's prone to surrender homeruns, and he'll be facing a Cubs team that is theoretically inclined to hit a lot of them.
Wednesday, April 29th - Ryan Dempster vs. Doug Davis
Ryan Clownsevelt Dempster's nickname doesn't make as much sense if he's not pitching in front of (or behind) Theodore Roosevelt Lilly. Anyway, through 4 starts this year he's pitched a lot like I thought he'd pitch last year - erratically with the consequence of surrendering too many runs. But chin up, Cub fans! While Dempster has yet to really dominate a team, he has very reliably pitched 6 innings each start never allowing more than 4 runs or less than 2. In his last outing he surrendered 3 earned while walking only 1. Let's root for some improved consistency!
Doug Davis kind of blows. He's not a bad 4th or 5th starter, but I wouldn't count on him to win regularly. That said he's already 1-3 this year, but with a good ERA. I'm still a little bitter over the fact that he beat the Cubs in the 2007 NLDS, and I'm hoping the Cubs hitters share that resentment.
Conclusions
In our urgent panic, we haven't really taken into consideration that the Cubs' latest woes have mostly occurred on the road. Sometimes winning in a strange ballpark is tough to pull off. But if ever the Cubs were going to thrash a team outside of Wrigley Field, it should be Arizona. They're not exactly "good."
Besides, 3 games of high energy offense would be just what we need to settle down a bit. So I figure why not? Go get 'em, Cubs!
Tip for Purchasing Tickets Online
Most online brokers and marketplaces in the secondary market charge a service fee during checkout regardless of what you are purchasing, such as Chicago Cubs tickets or anything else. Typically you can walk through the first few steps of checkout to find out if there will be any additional charges.. From your friends at Neco.com, the home of transparent pricing.