Series Recap: Cubs 10, Cardinals 3, dooooooom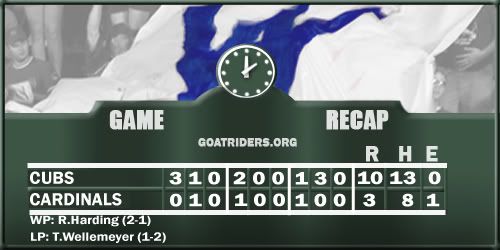 Memo from a Cardinals fan: I know it's only 17 games into the 2009 season, but I'm nervous. My team was doing really good there for a few games, but did you see the way the Cubs hammered them today? It's like it wasn't even a competition! I mean, where was the Cards offense? What will we do it St. Louis can't stop the bleeding? 10 runs to 3? Horrible! I'm quite convinced this season is going to be a total bust...
Back in reality. Sounds ridiculous, doesn't it? But if the script had been flipped and the Cubs took the first 2 game of this series only to get smacked around by the Cardinals today, then that is exactly what dopey Cub fans would be saying right now.
Nevertheless, the Cubs whomped the Cardinals. It felt good. Every starter - but Geo Soto, shocker and Reed Johnson - got a hit. In fact, the 1-4 guys went 8 for 16 with 7 of the team's 8 RBI (2 runs came unearned).
Offensive winners particularly include Micah Hoffpauir - 2 for 3, with 1 homerun (clearly he needs to have Derrek Lee's job) - and Kosuke Fukudome, who hit his 4th homerun of the year. Remember folks, he only hit 10 all of last season.
Rich Harden picked up his second win of the year, struck out 9 in 6 innings, dropped his ERA to 3.86, and sweated his balls off when the Cubs bullpen came in and gave up 4 hits and 2 walks in the final 3 innings of the game.
Series Recap
This could be known as the Three Game April Series in which some very vocal Cub fans lost their confidence in the team. I will not contest how ugly it was, because it sure was horrible. I won't argue that some very bad things happened - from freak injuries to ugly losses to feelings of immense frustration - because those were all bad and they happened in a matter of one weekend.
But I will say this: if your team quit on the game as quickly as you quit on your team, you would hate them with a passion. Just a reminder.
Tomorrow the Cubs head into Arizona, and we will be announcing some fun projects at GROTA.
Current Record: 9-8
Position in the NL Central: 4th place, 3 games out of first
Best Possible Record: 154-8
Worst Possible Record: 9-153
Record needed to win 110: 101-44
On Pace For: 86-76
Quick Links
Series Preview: Cubs at St. Louis
Game Recap: Cardinals 4, Cubs 3, rising tide of panic
Game Recap: Cardinals 8, Cubs 2, our season is clearly over
GameCast: Cubs at Cardinals April 26th