Game Recap: Cardinals 8, Cubs 2, our season is clearly over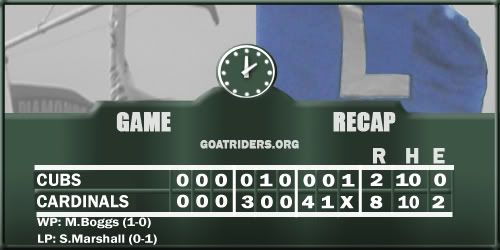 In case you missed it, this wouldn't be happening if Mark DeRosa was here.
Or if Jim Hendry knew how to build a team.
Or if Lee, Bradley, and Fontenot didn't suck so much.
Apparently if Mark DeRosa was on the Cubs and if Hendry had gotten real players instead of schmucks like Milton Bradley, then they would never lose 4 games in a row, they would never have team-wide offensive droughts, and in fact they would never give us cause for concern as they blasted their way toward a World Series Championship.
These are the things a couple of our readers have informed us about this weekend.
For the record, last year's World Championship team began the year with an 8-8 record and were only 15-13 after the first month of baseball. They spent a long period of the month of May struggling to win more games than they lost. From June 14th until June 29th, they went 3-11, including 6 straight losses. They had 4 game losing streaks in July and August, and they started play after the All Star Break with a win, and then immediately lost 5 of their next 6.
My point is that some Cub fans appear to suffer from the ability to look ahead, or put current goings-ons in context. I keep pointing this stuff out, but maybe they don't believe me? But let's try it again.
Derrek Lee is batting .293 since April 13th. I know, DB is one of the peeps who doesn't trust DLee or expect him to perform, but it really is not surprising that he started slow. Point of fact, way back at the beginning of the year I outlined 4 examples of past Cubs who began the year struggling and turned things up a notch later on.
Point of fact - as of this date, does anybody really believe that the numbers mean anything? As of today, Kevin Youkilis is batting .444. Does that mean the frozen noggin of Ted Williams should start sweating? Carlos Pena is on pace to hit 72 homeruns. Should Barry Bonds be concerned? Does anybody really think it's likely that Aramis Ramirez or Kosuke Fukudome will finish the year batting at - or better than - their current averages (.358 and .345)?
If the answer is "no," then how in the hell can you see a full 50% of our team's lineup struggle and expect them to play that badly all year long? Right now, Derrek Lee, Mike Fontenot, Geovany Soto, and Milton Bradley are a combined 31 for 175 - and 25 of those hits come from Lee and Font. That's a .177 AVG from half the starting lineup. No kidding that they'd be struggling right now! I'm shocked to see them struggle to win games with half their lineup sucking ass! I would've thought that the Cubs were so solidly built that they could overcome a slump that's effecting half the fricking team! Damn yous Jim Hendry for not building a better roster! Damn yous!
Anyway, the problem is that everybody wants the Superlative Season. The only problem is that back here in reality it does not happen. Even the best teams struggle. It's a fact of life.
So, yes, the Cubs are struggling right now. The offense grinding and groaning and not in the fun way. The pitching staff is looking worse by the day, what with injuries to the team's best setup guy, and the release of a pitcher with a 0.00 ERA (and an attitude), and the flailings of the fringe players who cracked the squad out of Spring Training. Yes. Things are ugly.
But what is worse to me is the continued Woe is Cub attitude that so many people are prone to display at the first sign of the team's struggles. It's just ridiculous. I mean, yes, this is all very frustrating from the fan's standpoint and we should be frustrated. But anybody who starts talking about "the moves not made" or how "the players brought in are failures" after 16 freaking games is putting the cart way, waaay before the horses.
Frustration is fine. Surrender is French. Don't be a Surrender Monkey!

Quick Links
Series Preview: Cubs at St. Louis
Game Recap: Cardinals 4, Cubs 3, rising tide of panic
GameCast: Cubs at Cardinals April 25th