Game recap: Cardinals 4, Cubs 3, rising tide of panic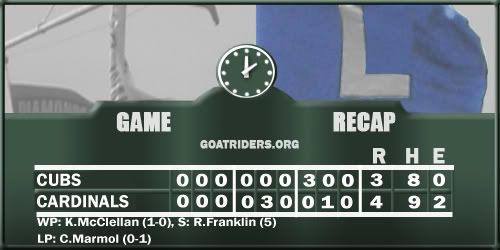 ¡SHOCKING NEWSFLASH! When your team is built without key components like backup third basemen, you will eventually find yourself in a tight spot!
Lou Piniella is learning this lesson the hard way, though. He decided to build his team around having an extra outfielder (Carjump Gathright) and an extra pitcher due to a lack of minor league options (Angel Guzman) at the expense of having a backup third baseman (???? ????) and a lefty reliever (???? ?????-?????)
Consequently, the Cubs find themselves caught between a rock and a hammer thanks in part to a whole wack of small-but-flaw-exposing injuries. Milton Bradley's got a sore groin. Aramis Ramirez left the game due to a sore leg. Carlos Marmol hurt "the side of his left knee," whatever that means. So now Lou has a decision to make - with Aramis sore and aching, the team finally needs to cave in and grab themselves another backup infielder. So who goes on the DL?
I don't know, is this a trick question? Without a doubt, without hesitation, our first visitor to the list is Milton Bradley, and here are the reasons why:
Dude's so hurt he can't run right now. Maybe Aramis is too, so this is a push.
Bradley has one hit on the season. He's cold as a bucket of iced-up spit. Aramis Ramirez was hitting the ball exceptionally well.
THE CUBS HAVE A TON OF BACKUP OUTFIELDERS!
Anyway, Bradley is DL bound. The Cubs will find some crafty infielder to promote to spell Fontenot, Theriot, and Miles. Being realistic for a moment, the Cubs probably would benefit from having two more back up middle infielders, but this is apparently the first 25-man roster Lou Piniella has ever constructed so let's take it in baby steps.
Back to the game for a minute. All told, the Cubs had their chances. They collected 8 hits from 7 starters (Reed Johnson got 2 of the 8 hits, Ryan Theriot went 0 for 5 in his first game as a leadoff hitter meaning that Piniella is probably bound to abandon the experiment). But they again only walked twice in the game. It's a Patient Team and a Disciplined Team that becomes an Offensive Force Team.
On the pitching front, Clownsevelt had his best start of the year - 6 innings pitched, 7 hits, 3 earned, only 1 walk and 6 strikeouts. The Cubs may have even been poised to win it were it not for Marmol's inconsistency and strange injury.
I won't be trying to calm the panickers who are freaked out over the 8-8 record of the team, except to say that some of these problems stem from roster and lineup construction.
When you have a 25 man roster, and 12 of those spots are filled by pitchers (and can somebody please tell me what in the hell is wrong with the old fashioned 11 man pitching staff?)
And if you are going to go with 13 hitters, then how does that break down?
2 catchers is a given.
1 first baseman, with some other guy on the roster who can play first.
2 second basemen.
2 shortstops, with one shortstop who can also play third.
1 third baseman.
2 left fielders, with one who can play right field as well.
2 center fielders.
1 right fielder.
If you build a team like that you're pretty well set. But this is what Lou gave us:
2 catchers.
2 first basemen, with one who can supposedly play RF.
2 second baseman, with one wo can play shortstop and the other who can play third.
1 shortstop.
1 third baseman.
2 left fielders, with one who can play RF.
2 center fielders, with one who can play left.
1 right fielder.
How could this work? I mean, doesn't this roster have way too many vulnerabilities? For instance, if your 1 RFer gets hurt, and your third baseman gets hurt, then your one backup infielder has to start at second base, your starting second baseman has to move to third, you have nobody who can play in the infield in case of an emergency, and your bench is decimated. So why not just cut a pitcher, DL the outfielder, and promote two guys who can play several positions including the left-hand side of the infield?
Just wondering.
Quick Links
First Series Recap: Cubs 2, Cardinals 1
Series Preview: Cubs at Cardinals
GameCast: Cubs vs. Cardinals