Game Recap: Cubs 7, Cardinals 5; Clutchy McClutcherson strikes again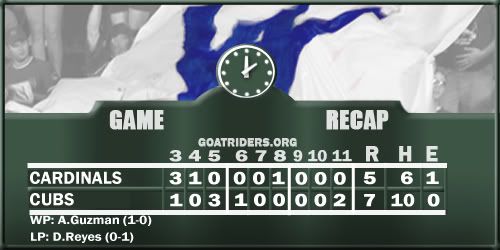 Baseball is a game of inches. A ball hit down the third base line ... if it drops just a few inches to the left ...
... a high blast, flying against the wind ... if it can just clear the wall in the outfield ...
... the ball is caught and a runner tags up. If the outfielder can just gun it to the infielder in time ...
Well, you get the point. It feels right now like the last two games have been won by inches. A few bad breaks, a few terrible calls, a few runs not scored and the Cubs could easily be 5-6 right now instead of 7-4. As a Cub fan living with perennial fear for my team, I can't help but worry about all these close calls. As a baseball fan watching a good team win close games, I can't help but be thrilled by the outcomes. It's a strange thing to be a Cub fan - I can't speak for you, but most of us are just a little crazy.
So what was the defining moment of tonight's game? Was it ...
The bottom of the 3rd when, down 3-0, Kosuke Fukudome delivered again, this time an RBI double, keeping the Cubs offense alive in a game that could have fallen out of hand?
How about the bottom of the 5th when, down 4-2, Derrek Lee hit a 2-run double that tied the game for the Cubs?
Perhaps it was the 7th when, after Neal Cotts walked 2 men on 8 pitches, Carlos Marmol stepped in and ended the Cardinals threat briefly keeping the Cubs in front 5-4?
It probably was not the 8th inning when Marmol returned to pitch again (against my wishes, curse you Lou) and surrendered two doubles before hitting Khalil Greene. Although Kevin Gregg stepping in and extinguishing the threat gives him back some of the closer cred that he lost in the first week of the season.
The top of the 10th when Alfonso Soriano made a good catch and gunned out Chris Duncan at second base?
The bottom of the 11th when Aramis Ramirez sent 'em all home with a walk off homerun.
I'll let you decide which moment was the most important. The easy answer is the A-Ram homer. The tougher one is that none of it would have happened if those players - Kosuke, Lee, Marmol, Gregg, Soriano, and the unmentioned Aaron Miles - hadn't delivered.
So, the Cubs won again. They've now won 2 of 3 and have the chance tomorrow to send St. Louis out of Chicago as sad participants. I predicted previously that Dempster would have a great game; man was I wrong. He wasn't particularly terrible but his output definitely would have fallen under the meh-diocre banner.
Tomorrow his left-handed partner in crime will try to finish the job. As I said before, baseball is a game of inches. The Cubs easily could be down 3 games to 0 right now. As exciting as these close wins have been, I'm a little tired of living with these retracted-from-fear testes and I hope they win tomorrow by a mile. It'll be Lilly v. Wellemeyer. It shouldn't be close. ...I hope.
Quick Links
Series Preview: Cardinals vs. Cubs
Game Recap: Cardinals 7, Cubs 4
Game Recap: Cubs 8, Cardinals 7
GameCast: Cubs vs. Cardinals April 18th