2008 Season Recap - Rich Harden
Imagine for a moment that you're watching Indiana Jones and the Kingdom of the Crystal Skull. Indy and his crew have made it past the natives and returned the Crystal Skull to it's lair. They carefully place it where it belongs... and nothing happens.
Just like an Indiana Jones movie needs fireworks to come to its proper conclusion, so too does a baseball season.
In early July, hours after the Brewers traded for C.C. Sabathia, Jim Hendry acquired the final key to the greatest Cubs team since the inception of radio. Hendry sent Matt Murton, Eric Patterson, and Josh Donaldson to Oakland in return for Chad Gaudin and Rich Harden.
My initial Harden trade evaluation was that the Cubs had probably gotten the better of the deal, but the health risk that Harden presented was seismic.
Fortunately, Harden stayed healthy and started 12 games down the stretch, racking up a nasty 1.77 ERA, a .97 WHIP, and winning 5 games. He was everything we expected in the regular season, but his only post-season start was a poor one. He recorded only 13 outs while allowing 5 hits, 3 walks, and 3 earned runs.
Still, despite a lack of control, Harden kept the Cubs in the game, a habit we saw consistently during the late summer stretch. The playoff start was unfortunate, but I'm of the opinion that it just increases the likelihood that his next one will be better. (For a player of his caliber to perform poorly in one start would indicate a better start later on.)
So, after the season, I think the initial assessment is still valid. Harden's a high-ceiling starter who can and will contribute tremendously to the Cubs success going forward, provided that he stays healthy. The future looks bright with him in the rotation, and if the Cubs can some how add Peavy, we're talking a 1-2-3 of Zambrano, Peavy, and Harden.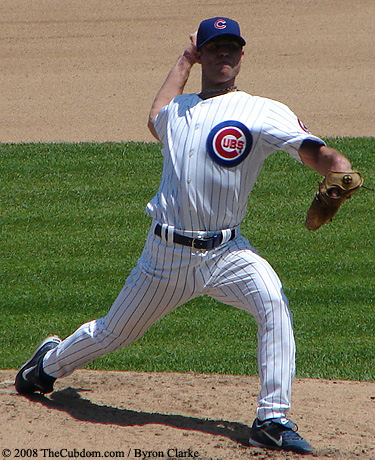 Rich Harden delivers a pitch against the Florida Marlins.
Image courtesy of The Cubdom Photo Gallery