Game Recap: D-Backs 9, Cubs 2 (or Holy Crap, Hurry Back Soriano!)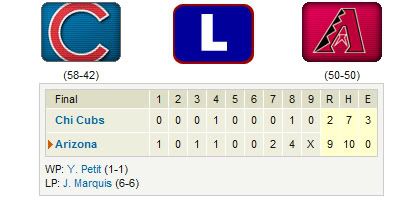 Alright, so, the vast majority of people will give you some kind of lecture about how you either shouldn't panic or, if you haven't panicked by now, you're an idiot. Here at Goat Riders, we don't like to lecture. Panic if you like; don't panic. Whatever. Me? I'm taking the "crippling depression" approach. I'm just going to go ahead and curl up in the South-East corner of my apartment and cover my head with a book and wait for this all to blow over.
I'm firmly in denial about the entire Cubs team being in a slump. Aramis is OhForTheSecondHalf, Derrek is still on pace for a very unpleasant record involving double plays and hitting into them, and...um, I don't know. Everyone else is sucking? Actually, that's not true. Theriot and Fontenot have been quite hot in the second half and Fukudome has been heating up in Arizona. But when Theriot and Fontenot are your carriers of hope, you are likely doomed. DOOMED!
But then you look on the bright side (because that's how one gets through the day when the night is filled with Cub baseball). Aramis has an OPS of 048. Zero point Four Eight. And his batting average? Zero. But he's not been the only one depressing this lineup. Lee is sporting a solid 333 OPS, DeRosa 591, and Soto 106. In fact, if you took all the production from Lee, Ramirez, and Soto and added it all together, you wouldn't quite have a Neifi. That's the type of production that will get you a 1-4 start and that's the type of production that will dissolve a lead.
Wait, wasn't there supposed to be a bright side? Ah yes, the bright side. The bright side (stop saying bright side) is that this obviously won't continue. Team-wide slumps like this happen (we previously called them "The 2006 Chicago Cubs") and there's not much anyone can do about it. Hits tend to come in streaks and that means there will be streaks of nothingness which will, on occasion, overlap. But this little period of slumpiness will come to an end for some of these players (and soon, please) and then the runs will start to rise again. And if the pitching remains as good as it's been, the wins will return as well. Add to that the return of Soriano, and our pain will soon come to a close. We can go back to the lineup that's been so successful, platoon Edmonds and Johnson, and re-solidify our defense.
Oh yeah, this was supposed to be a game recap. Well, there's really nothing to say. Fukudome and Theriot had a couple of hits and Hart needs to go back to the minors. Lee left five on base. Ward hit a solo homer. Blah.
The game was incredibly lame and at no point did I think the Cubs had a chance. Whee!
Cubs play tonight at 8:40. Even if Lilly can murder the Diamondbacks and fashion their skin into an evening wear collection, it's not going to matter if the Cubs can't score some runs. So, again I say, hurry back Alfonso.
HURRY!
And Go Cubs.