Cubs - Marlins Pictures
I'm back from Brazil and celebrated by attending today's disappointing loss to the Marlins. As Kurt mentioned, Rich Harden pitched well but got into pitch count trouble and didn't last into the sixth. Sean Marshall pitched very well, but gave up a dinger to the Cub Killer Jeremy Hermida.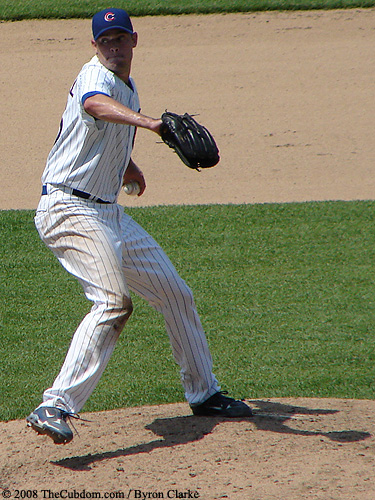 Sean Marshall pitched three innings of one hit ball, but that one hit was Jeremy Hermida's second game tieing home run of the day, and his third in the past two games.
Image courtesy of The Cubdom Photo Gallery
Again, the offense was thin. Aramis Ramirez and Geovany Soto hit solo shots, but two runs in twelve innings generally spells L-O-S-S and today was no different.
Click on the thumbnails below to see some of my gameday pictures in The Cubdom photo gallery. Also, if you check back tomorrow, I'll have a bunch more.