Game Recap: Cubs 9, Marlins 6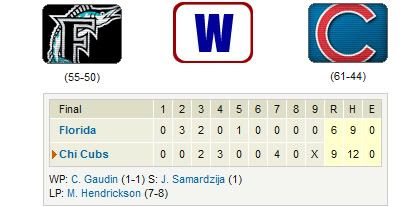 Holy crap, they're alive.
ALIVE.
I refer, of course, to all the people in the world who happen to be alive. I'm frankly not sure why I mentioned this, because the more relevant point is that the Cubs' bats have finally returned to form...for one day, at least. In a remarkably important game for the Cubs and all those who care for the Cubs and anything Cub related, the Cubs decided not to roll over. But it didn't seem like that's the way things were going.
You see, Jason Marquis was bad. He had no control and, when he did find the strike zone, he only found the center of the plate. This lead to a very quick five run deficit and the hope that Lou would go to the bullpen. But Lou was committed to Marquis insofar as that he didn't want to go to his bullpen (much as I rarely attempt to put out a fire with gasoline. Very rarely, in fact). And so I had given up on this game. I was sure that this was one more painful game to endure in which the Cubs' bats slept and the opponents bats rocked. Not fun to watch certainly and extremely depressing to consider.
But things didn't go down that way. At first, it was just a small rally. A few hits and a few walks led to a couple of runs. Hardly anything exciting, but certainly a small ray of hope. I mean, we were back into a save situation which, as we all know, means the game was undecided. And Jason Marquis was settling down, allowing for some heroics from everyone's favorite leadoff hitter. With one out in the forth, Soriano took a low, outside fastball to the opposite field and the game was tied. For some reason, I just knew he was going to do this. I'm pretty sure it's because I'm psychic. In fact, I'm very psychic and very powerful. You should fear me.
And then we had a ballgame. The Cubs and Marlins traded homers, with the Marlins winning the tale of the tape (if you will) as Dan Uggla's homer travelled somewhere in the realm of 600 feet and the game was still tied at 6-6. And then it was in the bottom of the 7th, as the Northwestern head coach watched on, that Mike Fontenot played the hero. The Marlins made the classic blunder of walking Darryl Ward to get to Scrappy Mike and he made them pay, clearing the bases with a double. It was ever so exciting.
And then it was Samardzjia time (did I spell that right? I didn't look it up). He truly has amazing stuff with an electric, tailing fastball and an excellent split finger and solid command. Maybe he's just hot right now, but I'll take it. The Marlins had no chance against The Big S and it was game over. The Cubs won and 9-6 and the Brewers and Cardinals lost and we're all happy. Go Cubs.
I'm excited about Samardzjia, sure, but it's nothing compared to Lou. In his postgame conference, Lou showed the rosy cheeked exuberance of a school girl whenever the name Samardzjia came up. He gushed about his poise, looking off into the distance at something only he could see. As far as Non-Sexual Man Crushes go, we've got a doozie going on here on the North Side.
So, the Cubs win. Ramirez, Lee, and Soriano are starting to emerge and the Cubs took more pitches today. They'll need all that going into Milwaukee for a four game set.
Go Cubs.