2008 Season Recap: Ryan Dempster

The journey Ryan Dempster has taken as a Cub has been, at the very least, unlikely. He's been on the team since the tail end of the 2004 season, when Jim Hendry plucked him off the scrap heap while he was still recovering from Tommy John Disease. He had moderate success that season for the Cubs, pitching 20.2 innings in relief.
Even then, I'd clamored for him to be elevated to the role of closer, although my reasoning was nothing beyond "hey, it worked with Smoltz!" I actually had the chance to meet him during the 2005 Cubs Convention, at which point I said to him "I think you'd be a great closer." He agreed with me, explaining how much he loved winning and how competitive he was, and he was then promoted to that role for the next 3 seasons to moderate success.
And by moderate, I mean he pretty well sucked, especially the last two years he was doing it. In fact, at one point he prompted this photoshop: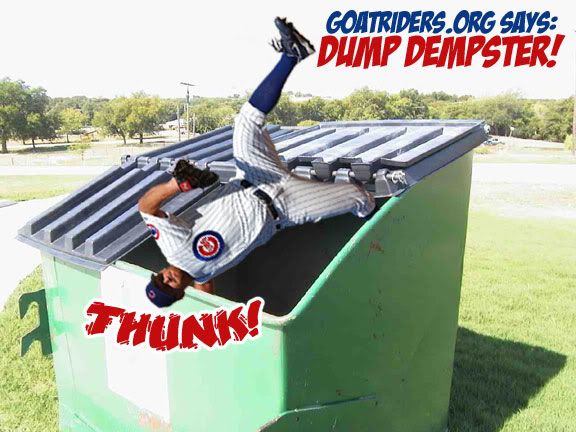 But it turns out that Lou had other ideas for Ryan. After it was decided that Kerry Wood might be better suited to close for the Cubs, Dempster was given another shot at the starting rotation - something he'd done previously in 2005 for the Cubs. That season, Dempster had gone 1-3 with a 5.35 ERA in 6 starts before being returned to the bullpen. And, because of his past failures as a starting pitcher, I expected to see a similar performance in 2008. Man, was I wrong.
Instead of flopping by the end of May, Dempster took control of the rotation and provided a steady hand, even as pretty much every other pitcher in the Cubs rotation battled difficulties. Dempster started off 4-0 in the month of April, and he never pitched a month in which he lost more than he won.
Consequently, in what may be his final season as a Cub, Ryan Dempster inarguably had a career year. The numbers don't lie - 206.2 innings pitched, 17 wins, only 6 losses, and a sub-3 ERA.
What worked best for Dempster was his clear confidence in his stuff. He knew he had the ability to work his way into and out of situations, and for that reason he was able to use the occasional base on ball advantageously. He forced 19 double play balls this year, 11 more than Ted Lilly and 17 more than Rich Harden.
But regardless of that, Dempster did not have it in October. In his one start against the Dodgers, Dempster came unglued, reverting to his old self, and walked way too many guys while getting pummeled by a strong offense. It was just one game, making it a far too small sample size, but I would probably feel uncomfortable with Dempster starting another Game One in a short series.
The Debate About His Free Agency
The great Earl Weaver was known to say that if he had a team of 25 players who were pending free agents, then he would win the World Series. I don't know if there is any real statistical correlation between this concept and reality, but perhaps it is not coincidental that Dempster had a career year at 31 as a pending free agent.
Consequently, he is likely to land a very hefty payday - if not with the Cubs, then elsewhere. I think most pundits would agree that Dempster will likely earn an average of 12 million a year or more, and he will likely be looking for a 4 year deal or longer. While it would not be easy for the Cubs to make up for the 17 games he directly won last season, there is no guarantee that he'll come anywhere close to his '08 performance ever again - in fact, I'd wager it's unlikely.
For those reasons, I'd argue that Dempster will probably not be worth whatever kind of contract he signs in the coming weeks, although he very well might be a reliable, above-average starting pitcher next year and beyond. It's just that such a pitcher is probably not worth ace money. But if Jason Marquis is worth 8 million a year, then surely Dempster is worth 10 to 12, and the Cubs will hopefully succeed in signing him to a deal that does not overpay.
Regardless of what happens next, Ryan Dempster has been a valuable addition to the Cubs. He is apparently well-liked by his teammates, he pitched his ass off in 2008, and the Cubs clearly would not have reached the playoffs without his consistency. If he in fact has thrown his final pitch in a Cubs uniform he will be hard to replace. However, letting him go and allowing somebody like Samardzija to have an opportunity to start may be the best chance the Cubs have to assemble the money to upgrade in other important areas. It's a difficult situation for Jim Hendry to be in, but considering the success of Dempster and of the '08 Cubs, I'm grateful that he has put the team in this position.
And, of course, I'm anxious to find out what happens next. But rather than end this article on that thought, I'll spell out the likely scenarios for you...
1. Dempster re-signs with the Cubs, freeing up Hendry to deal Marquis (saving 8 million) and promote Samardzija (or Marshall, or Gaudin) to the rotation. A fair contract would be 3 years for $36 million with a 4th year that is a) guaranteed to kick in if Dempster averages 200 innings pitched or b) a mutual option should Dempster fall short of the 200 IP average, for $15 million.
2. Dempster goes elsewhere. The Cubs choose to retain Marquis and allow Samardzija, Marshall, Gaudin, and perhaps even Rich Hill to compete for Dempster's spot in the rotation.
3. Dempster goes elsewhere, the Cubs use the money they were going to offer him to pick up one of the free agent pitchers on the market. In this scenario, Marquis returns to the trading block.
4. Dempster goes elsewhere, and by including everything and the kitchen sink, the Cubs replace him with Jake Peavy in a big trade. Marquis remains in the rotation as the players who were dealt away would probably have included the guys most likely to compete for a free spot in the rotation.
Probably the first 2 scenarios are the most likely, and I suspect that Scenario 2 is the most possible. Look for me to write an "I told you so" a month from now if I turned out to be right, which is bound to happen since I pretty well covered all the bases here... for whatever that is worth.