2008 Season Recap: Reed Johnson

As most of you are probably aware by now, while I am an American citizen I hang my hat in the lovely city of Toronto.  That means that every four years - give or take - I get to see the Cubs travel to the Dome on what tends to be the anniversary of my relationship with my Canadian Fiancee.
I'm not a huge fan of watching the Jays play.  Mostly, my problem with the team stems from the ballpark.  What was once a glorious representation of the future of baseball parks everywhere, the Rogers Centre now strikes me as boring and empty.  And maybe it's just the acoustics, but compared to Wrigley Field it's as quiet as a crypt out there - except, oddly enough, for when Reed Johnson appeared in the series against the Jays last year.  When that happened, the Toronto fans roared in support.
Maybe it's just Canadian to remember that guy who used to wear your team's uniform and appreciate him always, or maybe the Jays fans realize what we were quick to learn in 2008 - Johnson is a valuable player who knows how to hit.
Like Edmonds, Johnson was a player that Jim Hendry picked from the scrapheap.  He signed a deal in March, after having batted only .236 in 2007 thanks to a herniated disc.
He proceeded to hit the ball very well for Chicago.  In 333 at bats, Johnson batted .303 with a .358 OBP.  He hit 6 homeruns and 21 doubles, while posting an OPS of .778.
He also has award-winning facial hair.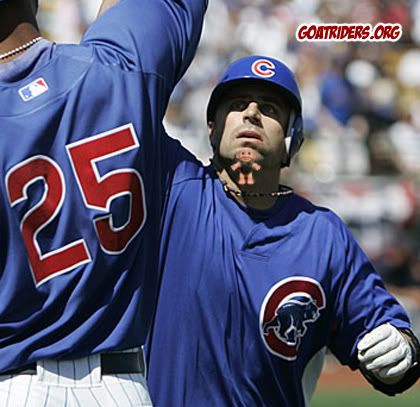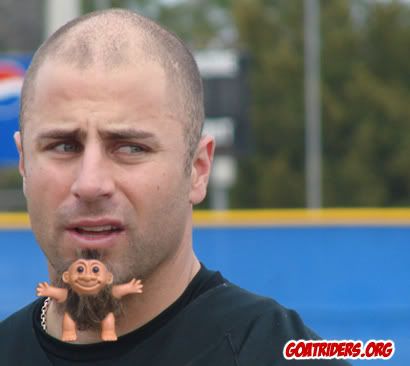 Johnson will return in 2009.  It's very likely that he'll share center field with Kosuke Fukudome, while also starting the odd game in left and right.  He's never going to be an All Star, in fact he's the epitome of the Scrappy White Player, but the Cubs are a better team with him on their bench.
Oh, and it was his birthday on Monday.  I just thought I'd point that out.