Season Recap: Kerry Wood

I'm bummed that Kerry Wood won't be a Cub next year. Like all Cubs fans, Woody was one of my favorites, even if I bad mouthed him a few times when he was hurt. Unfortunately, the Woody era is a thing of the past, but as part of the season review, we get to revisit our favorite Texas fireballer at least one more time.
Kerry Wood was a first round draft pick by the Cubs. I haven't done any research to back this up, but my suspicion is that he was also the Cubs best first round pick in the team's history.
After a mediocre 1997 season, the Cubs felt they needed a little star power at Wrigley, so they brought up the farm-hand who just wasn't ready yet. At least that's what I would tell anyone who would listen for his first five starts. The sixth start was something different, and although I clung to my stubborn opinion about his readiness for the Big leagues, I was a Kerry Wood fan through and through.
Why visit the ancient history of 1998? Because it's the only context that can explain why a Division championship team would purposefully choose to take their occasionally unsteady, but excellent closer out of the bullpen, insert him in the starting rotation, and move an occasionally healthy starter with no history in the bullpen and make him their closer. (Yes, Wood saw some limited bullpen work at the end of '07, and yes the Cubs gave him some nominal competition for the closers role in 2008, but feel free to comment if you thought Jim Hendry actually had Bobby Howry penciled in the closer's role.)
Anyhow, I digress. Wood won the closer's job out of Spring Training and 65% of Cubdom assumed he would do a great job as closer. That's been the eternal dividends of those wonderful May 1998 starts. Kerry Wood has been the hope of this franchise for 11 years.
The Franchise turned to him for game 3 of the 1998 NLDS.
The Franchise imploded following his '99 Tommy John Surgery.
The only hope of the 2000-2002 dark years was a healthy Wood.
The Franchise reached the playoffs in his next solid healthy season in '03.
The Franchise put him on the mound for game 5 of the 2003 NLDS.
The Franchise put him on the mound for game 7 of the 2003 NLCS.
The Franchise put their hope on him in 2004.
The Franchise put their hope on him in 2005.
The Franchise put their hope on him in 2006.
While briefly out of favor, the Franchise put their hope on him again when he returned healthy in 2007.
On faith, The Franchise designated him as closer in 2008.
However, the astute Cubs fan will look at this list and realize most of those bullet points ended in disappointment and/or failure. (Even at this point I'm unable to bring myself to blame Wood... it wasn't all his fault.) But, the record doesn't lie and the few Wood successes form a shorter stack than the mound of Wood disappointments.
As a fan base, we were all too eager to expect the unexpected from Wood, and thus it is that I find it a horrible relief to move along, to cut ties with Woody, to ending the tenure of the longest tenured Cub.
Ok, back to the assignment. It is because of those incredibly lofty assumptions and that track record of good performances but disappointing results that I'm not devastated by the loss of a 34 save, 3.26 ERA closer who struck out 84 in 66 innings of work. Yeah, those numbers aren't likely to be repeated in '09 unless Carlos Marmol is truly the second coming of Mariano Rivera, but a warm body (see Borowski, Joe; Beck, Rod; and Jones, Todd) can come close to those numbers on a winning team and GM Hendry apparently feels the proper allocation of scarce resources doesn't involve a 4 year deal for a 31 year old closer with a long history of health problems.
As a fan, I want to disagree with GM Hendry, but I cried uncle after the skillful Rich Harden trade (heist). I don't always like Jim Hendry's style, but no other Cubs GM has ever had a better record when it comes to playoff appearances. (3 of Hendry's 6 full seasons as GM have resulted in a Cubs post-season appearance.)
So, I've forfeited my ability to second guess Hendry, but you're welcome to question the move in the comments.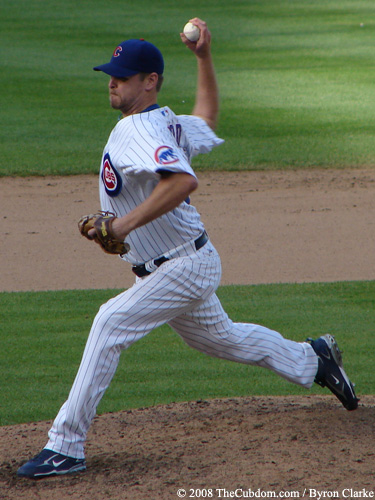 Kerry Wood delivers a strike in a game against the Milwaukee Brewers at Wrigley Field. He pitched the eleventh and twelth innings striking out three and recording a win.
Image courtesy of The Cubdom Photo Gallery