2008 Season Recap: Rich Hill and Sean Gallagher

At various points over the past two years, I've been a strong advocate for both Rich Hill and Sean Gallagher. At the tail end of the '06 season, I was convinced that Hill would be for real - he threw a ball-busting curve and seemed poised to dominate. And, in '07, he was certainly about as good as advertised - he threw 195 innings of work, he went 11-8, he had a 3.92 ERA, and he struck out 183 batters. Then, he crapped his pants in the playoffs and became trade speculation.
The funny thing about Hill was that he was always hit or miss - there rarely seemed to be an in between. Either he'd go out and pitch a solid game, or he'd go out and get rocked by the opponents. There was no steady pitching until the 5th when he gave up 4. If he had 4 to give up in a game, he'd do it early. This led me to joke that there were two Hill's - Rich and Mitch. Rich Hill was the good pitcher, the reliable lefty with tremendous talent. Mitch was the jealous, evil twin brother of Rich who would occasionally kidnap his good brother and take his place in the rotation. Although they were twins, it was easy to tell them apart - Mitch had one of those evil, curling mustaches and he would pitch while wearing a villanous top hat: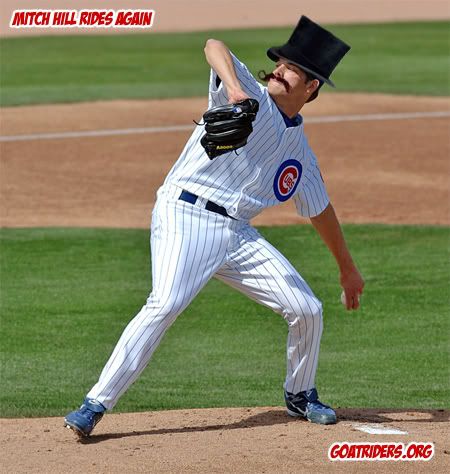 There were basically two camps on Hill before the start of the '08 season. Camp Untouchable argued that Hill did well in his first full season and, because the Cubs controlled his contract for essentially the next half decade, his greatest value was to the team. Camp Trade, however - and I was a member of this group - argued that Hill was effective and reliable, but he was not a #2 pitcher, he had no ace-like qualities, and he would best serve the Cubs by being traded in order to upgrade the rotation. But, just to prove to you that I don't always think I'm right, I had stumped for Erik Bedard to be the pitcher the Cubs should have pursued.
It actually turned out that we were all wrong. Hill was neither reliable nor effective in 2008. In fact, he only pitched in 19.2 innings at the Major League level, and he walked 18 batters to 15 strikeouts in that time frame. Concerned for him, the Cubs sent him back to Arizona to work out his kinks, which he never really did. He got roughed up in Iowa, was sent to work out the kinks in Mesa, and was briefly shut down on July 1st after only going 1/3 of an inning. Hill pitched once more on July 8th and did well enough to warrant continued work, but he failed to "get right" this past season. His final figures - 9.1 IP in Arizona ball, 5 walks. 12.1 IP in A+ ball, 11 walks, an 8.03 ERA. 26 IP in AAA ball, 28 walks, a 5.88 ERA.
The Hill saga continues even now. The Tribune has reported that Rich Hill has been pitching in Venezuela for winter ball, where he's seen moderate success. But what is certain is that in 2008 Hill went from wonder to horror, and while the Cubs certainly didn't seem to miss him in the long-run, it's too bad that they failed to get anything of value from Hill.
Sean Gallagher
When Hill went down, Gallagher found his chance to shine. At the age of 22, Gallagher is a pitcher with a lot of promise - he has 3 above average pitches and has succeeded at every level he's pitched. I had a feeling that he probably would be erratic at best in '08, but he appears to have a long future ahead of him which should include success at the major league level.
Then, after 10 starts and 3 wins, the Cubs traded Gallagher to the A's for an older pitcher with a history of arm problems and a contract that expires in one more season, and I rejoiced. After all, as much as I like Gallagher, Harden is a phenom.
Therefore, I would argue that Gallagher's season was very successful for the Cubs. He pitched effectively for a third of the season and then landed Chicago the best stuff starter they've had in 5 years. Thanks, Sean, and good luck.