2008 Season Recap: Michael Wuertz and Scott Eyre
And now for the season recap you've all been waiting for - the, erm, dynamic duo that was Michael Wuertz and Scott Eyre. Let's start with Scotty first, before he gets distracted and starts playing video games until a cool cartoon comes on TV before he notices the mirrorball hanging from the ceiling in the second story of the house next door before he goes blind staring into the sun.
Scott Eyre - There is a term that should never be used by pleasantly plump people such as myself when describing professional athletes, but what they hell. Scott Eyre is a fat pud. I mean no disrespect, after all it's not like he's Glendon Rusch fat, but it's probably no coincidence that with the multi-year, multi-million dollar contract that he signed with the Cubs three years ago, he immediately opened one of those duo KFC/Taco Bell franchises on the first floor of his mansion.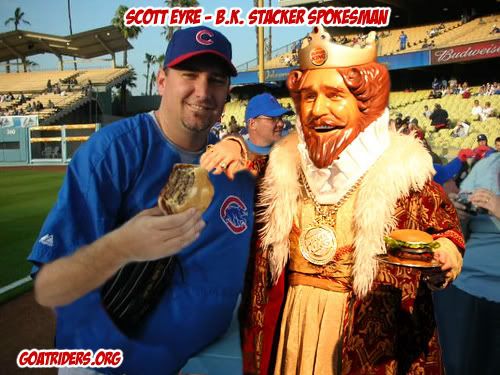 You know what, don't mind me. I'm only a little bitter about Eyre because his complete failure to deliver any kind of consistently good performance for the Cubs resulted in Lou Piniella turning to Neal Cotts.
In the meantime, Eyre made 19 appearances for the Cubs in the final year of his contract. In those 19 appearances, Eyre pitched 11.1 innings, giving up 15 hits, 4 walks, and 9 earned runs for an ERA of 7.15.
Unable to forgive him for this ridiculous play, Jim Hendry made a move that would change Eyre's life - on July 31st, he was sent packing to Philly - aka the World Champions.
As a Philly, Eyre put up an ERA of 1.88 in 14.1 innings of work, and not only did he make the playoff roster but they actually trusted him to pitch in the World Series! And now, Philadelphia appears on the brink of signing him to another year.
Therefore, I guess that from a certain point of view, Eyre's season with the Cubs was a total success. You'd have to be a crazy old hermit-jedi to see it this way, but his pitching performance for Chicago landed him a gig for next year and a World Series ring. Well played, Scott Eyre. Well played.
Michael Wuertz - Ah, the whipping boy.
Let us be clinical about this. Your favorite team has a relief pitcher who, quite frankly, looks like he may have been an extra on the set of The Warriors, despite having been born in Minnesota. In his career, he's thrown in 265 games and 262.1 innings, and he's allowed 225 career hits, 128 career walks, he's struck out 270, and his career ERA is 3.57.
In his most recent season, at the tender age of 29, this young arm starts out with a rough April, but he follows it up by allowing only 9 hits and 4 walks in May for an ERA of 1.35. Then, in June, he loses his edge a bit - 13 hits and 5 walks in 8.2 innings, but his ERA is only 2.08.
Then - then! - in July, after having not pitched for an entire week, he steps into a game against the Reds, a team that killed Cubs pitching this year, gives up 4 earned in 1.1 innings of work, and is banished from Wrigley Field until September 1.
This was the seasonal path of Michael Wuertz. Clearly, this is one guy Lou Piniella caught screwing his daughter.
Was Wuertz's season that bad? Did he deserve the distaste of Cub fans everywhere? Can anybody with a straight face really claim that he was worse than Howry?
Wuertz will probably be back next year. And although he'll almost certainly post a Sub 4 ERA, make no mistake - he'll be hanging on by a narrow thread. Why? Lord, I don't know. He's really not that bad at all.