2008 Season Recap: Bob Howry

At the start of the season, the GROTA staff did something similar to what we're doing now - we wrote articles about the individual Cub players who looked as though they were going to play a bigger part in the season. I also made photoshops of every one of them, many of which failed to make a whole lot of sense - not that it's entirely my fault. Guys like Bob Howry fail to inflame the imagination.
Howry is just a boring looking guy. Nothing stands out. He doesn't have a bushy foo. He has no tribal tattoos. He doesn't look like he shived the guy who played J. Jonah Jameson while guest appearing on Oz. He's just really, really boring.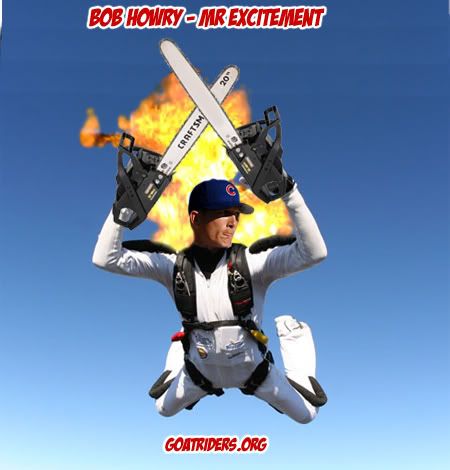 Maybe he is aware of that fact. Maybe Howry realizes just how boring he really is. Maybe that's why he decided to make things interesting this season, which he proceeded to do by earning the nickname "Gas Can." In other words, Howry was terrible all year long.
Take a look at this line: From July 23rd until August 14th, Howry pitched in 9.2 innings of work. In those 9.2 innings, he gave up 15 hits for 10 earned runs. Of those 15 hits, 5 were not contained by the ballpark. Can you imagine if a starting pitcher lost 33% of all hits to the bleachers? A guy like Ryan Dempster, who gave up 174 hits in 204.2 innings of work would have surrendered 57 homeruns.
Howry was almost that bad throughout his entire season. In his 70.2 innings of work he surrendered 13 homeruns, a fairly unusual amount for a reliever. If Howry had matched Dempster's workload, that would have equated to 38 homeruns and an awful lot of Cub losses.
Make no mistake that I'm glad Howry was a Cub, though. Before 2008, he was a reliable arm in the bullpen, and even this year he ate a lot of innings for a 97 win team. The problem was twofold - he had a heavy workload before the All Star Break (46 innings of work, 4.50 ERA) which may have contributed to his poor performance after the break (24.2 IP, 6.93 ERA), and he's just of age to lose it as a reliever. Howry's in his mid 30's, a problem that usually means Game Over for most relievers.
Regardless, he is now a free agent, and it is rumored that Howry will find a home in San Francisco. We wish him the best of luck in his new digs, and we hope that the guy he's replaced by can step up and deliver a more consistent performance. But here's to you, Bob Howry, you magnificiently boring bastard!