2008 Cubs Recap: Aramis Ramirez
Remember way, way back in 2008 when Aramis was the most hated man in America (as determined by a very specific demographic). Well...that demographic and this guy. And, of course, the San Diego Chicken: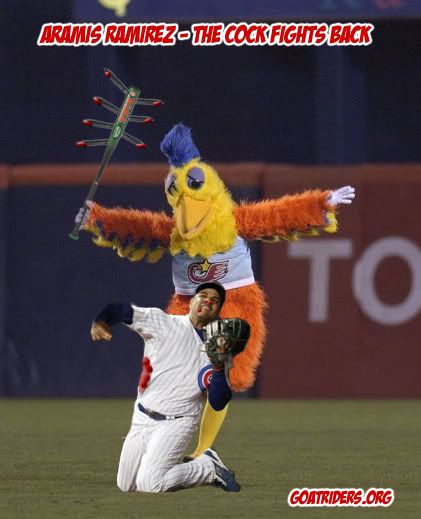 Yeah, he has his enemies. But here at Goat Riders, we love our Aramis. We love the doubles and we love the clutch, the homers and the hustle.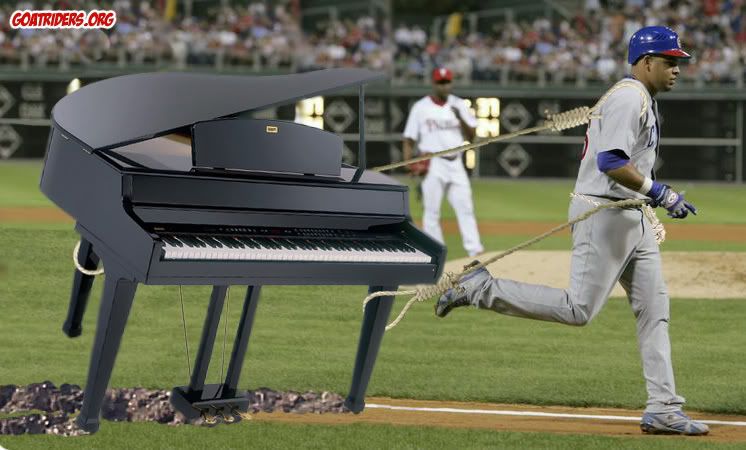 Wait, what? Yeah, I said the hustle. I'm almost certain Aramis, once known as a dragger of pianos, has decided that hustling's in his best interest. Can I quantify that? No. But I can't quantify that Theriot's a Gold Glove shortstop either, and...um, nevermind.
Last year Aramis made a big leap in the one part of his game that had been fairly mediocre in the past. In 2008, Aramis bested his career high in walks by almost 50%, posting a .380 OBP. With this came a dip in power, so his OPS+ of 128 was slightly worse than in '07, but the progress is still pretty nice to see. Seeing Aramis put the two haves of his game together next year could be quite fun and we could be looking at a legitimate MVP candidate...assuming osteoporosis finally catches up to Pujols, of course. A bold prediction to make about a guy on the wrong side of 30, you say? Perhaps. But let me make this bold prediction:
.305 BA
.396 OBP
40 hrs
124 RBIs
16 hustle points
And he will save a kitten. From a dog.
And then feed it a chicken. A live chicken.
That's just what he does.
Aramis: cock fighting and ball smacking and your 2009 MVP. Book it.