Series Preview: Cubs vs. Diamondbacks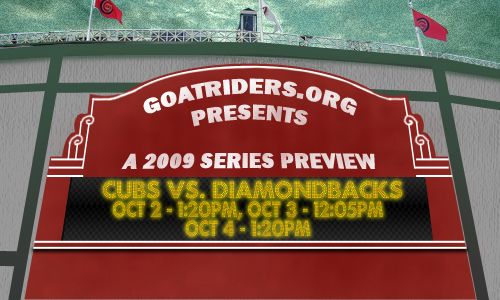 Overview
Well it's finally here. The end of the season.
As tough as this season as been on some of us, I'm personally not looking forward to the winter. Do I want to see the Cubs win? Of course, but baseball is baseball. It's a great game that people all across the country can enjoy the same way. The weather is hot, the beers are cold, and the game is there for us almost everyday from April through September. I am going to miss it.
At the expense of getting sappy, it is time for this dogshitary of a season to end. We might not be able to watch baseball until the snow melts, but there will be plenty to talk about over the coming months.
But first, we have the D-Backs…
The Matchups
October 2nd - Billy Buckner vs. Tom Gorzelanny
Tommy GoGo will be on the team Opening Day next year, but it's just a matter of determining his role at this point. I'd say No. 5 starting spot is his job to lose at this point.
October 3rd - Daniel Cabrera vs. Randy Wells
Wells has fallen apart lately, and understandably so. Wells has never pitched this many innings in a season and there is no doubt in my mind fatigue is a factor. I'm just glad he's having his growing pains now rather than during a season when it matters.
October 4th - Doug Davis vs. Ryan Dempster
The man who leads this team in innings pitched will finish off the 2009 season for us. I think Dempster learned a little something about conditioning this season, but we also have learned something about Dempster: He's not a reliable top of the rotation pitcher.
Conclusion
I'll admit that I was filled with optimism going into this season, too much for my liking actually. Outside of a Milton Bradley trade and perhaps a new addition to the middle of the infield, you're already looking at your 2010 Cubs.
Will we be as optimistic next March as we were in the last one? I doubt it, but just keep this in mind folks: Almost every player on this team played below their career averages and preseason projections. Maybe we would like to place the blame on some combination injury, illness, pot, batshit craziness, or apathy, but I see the 2009 season as being the exception rather than the rule.
Baseball is a game of numbers. These numbers have been proven over and over again. For a whole team (outside of Derrek Lee) to play this bad all in the same season is…well…utterly ridiculous.
I'm not saying the team is cursed or that the manager needs to be fired or that a clubhouse cancer needs to be eradicated. No one reason (or combination of reasons) for failure exists. Naturally we want to find an answer, but the answer is simple: statistical anomaly.
I know the Cubs are far from perfect, but the window is still open and will still be open for a few years. You don't have to be optimistic going into next season, but don't expect such a subpar result either. Just saying.
Go Cubs. The end.
Tip for Purchasing Tickets Online
Most online brokers and
marketplaces in the secondary market charge a service fee during
checkout regardless of what you are purchasing, such as Chicago Cubs tickets
or anything else. Typically you can walk through the first few steps of
checkout to find out if there will be any additional charges. From
your friends at Neco.com, the home of transparent pricing.