Series Preview: Cubs vs. Pirates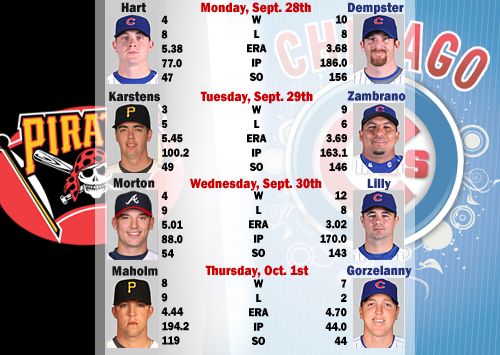 Overview
Fall Training enters its final week starting with a four-game set against the 4A Pirates. Day games, doubleheaders, and beating up on the Pirates. You got to love it.
Some guys need this week to make a statement about where they belong next season. Some guys need this week so their manager remembers their name come March. Some guys need this week just so they can save whatever dignity they have left (Single-digit wins for Zambrano? Seriously?).
But for us fans, we need this week just to have some effing closure. Many of us came to terms with the crappiness of this team months ago, but now we need a sign that a Milton Bradley-free 2010 Cubs team will give us something to look forward to on the other side of a bitter winter.
And if the Cubs can't do well against teams like the Pirates and D-Backs…
The Matchups
September 29th – Kevin Hart vs. Ryan Dempster
Dempster has turned what looked like a disaster of a season into a something decent. His 3.68 ERA isn't awful, but I think we can all agree that this isn't the same pitcher we saw in 2008. Demp will be aiming to get to 200 innings pitched on the season. Hopefully he will be better conditioned for next season so he can do it again...but with a little thing I like to call "success."
September 30th – Charlie Morton vs. Ted Lilly (Game 1)
TRL has been by boy this year for one reason and one reason only: he does not walk batters. In his last start against the Cards, Lilly didn't walk a single batter over 7 2/3 innings. That was the 10th time he has done that this season. 10th! Is there any wonder why he is the ace of this staff?
September 30th – Jeff Karstens vs. Calros Zambrano (Game 2)
It might have been a few months late, but Zambrano finally pitched like a guy earning big money in his last start. He went the distance and shut out the Giants (a team that had something to play for) on the road. That's what an ace does. Too bad that will never be Big Z.
September 31st – Paul Maholm vs. Tom Gorzelanny
This will most likely be Tommy GoGo's last start of the season. Based on his play since joining the Cubs, I would say Gorzo has probably earned the fifth spot in the rotation next season. Then again, who knows what's going to happen with Harden, the Shark, and Zambrano. Either way, Gorzelanny will be on the 2010 roster.
Conclusion
Dear Cubs,
We have five months of freezing weather ahead of us. Please give me something to dream about while hibernating. Don't suck. Thank you in advance.
Go Cubs,
Kyle
Tip for Purchasing Tickets Online
Most online brokers and marketplaces in the secondary market charge a service fee during checkout regardless of what you are purchasing, such as Chicago Cubs tickets or anything else. Typically you can walk through the first few steps of checkout to find out if there will be any additional charges. From your friends at Neco.com, the home of transparent pricing.