Game Recap Double Shot: Cubs 6, Giants 2; Giants 5, Cubs 1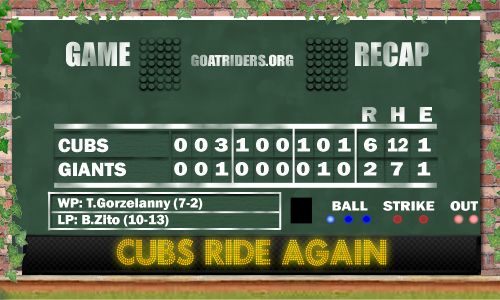 Today's "Box Score Highlights" are brought to you by Boston Logan International Airport. Or is it from? I don't understand prepositions.
In no particular order:
-Esmailin Caridad pitched two innings last night to bring his major league ERA down to 1.65 for the season. He also nabbed three strikeouts over the course of the outing. That seems like a good thing!
-Tom Gorgonzola had another five-inning outing, needing 95 pitches to get 15 outs. Serviceable fifh starter? I think so -- especially for a team with an already gargantuan payroll headed into next year.
-Jake Fox keeps hittin'. He's got a .280 average, and 43 RBIs on the season. I've gotta believe the Cubs will work his arse off this offseason trying to teach him how to play passable defense. He needs to play every day.
(Just like Micah Hoffpauir and Mike Fontenot deserve every day spots...? Whoops.)
-Sam Fuld went 1-for-3 with two walks. The plate patience part is definitely there; if he can keep flippin' singles with any sort of regularity, how can the Cubs spend $3 million on ReJo for 2010?
-Aramis Ramirez is still good at hitting, even with one shoulder. But then again, why hasn't he had surgery yet?
All in all, a nice win. Nice job playing spoiler, whether or not the Giants secretly suck.
Go Cubs!

Oh, Randy Wells. We lament this loss!
Either way, the Cubs have successfully spoiled the crap out of the Giants. It's about a sure-bet that the Rockies will be in the post season this year, thanks to the beat-down Chicago has dealt San Francisco.
Today's game, though, was the death rattle for the Giants, as they were able to step up and win against a -- I will continue to argue -- worn out Randy Wells.
Offensively, the Cubs managed only 5 hits and 3 walks, but Randy Wells got his ass kicked. Wells surrendered 10, walked 2, and only struck out 1. In fact the Cubs only run came in the 9th, thanks to a Bobby Scales triple.
I'm just going to call this a pity win. Clearly the Cubs feel sorry for San Fran, and so they threw them this empty victory.
Anyway, tomorrow's the last off day, and then it's a 4-gamer against Pittsburgh.