Series Preview: Cubs at Milwaukee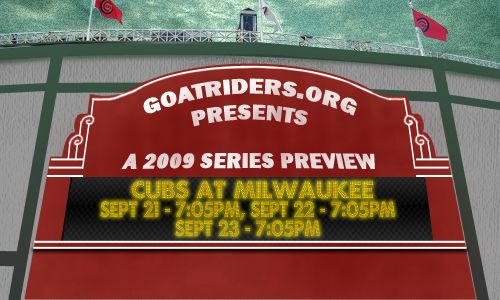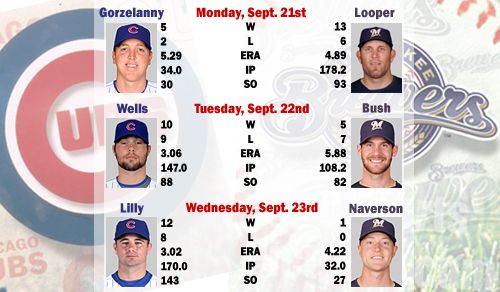 Overview
Milton Bradley is suspended, Alfonso Soriano is hurt, and Kevin Gregg is a deadman walking. The three scapegoats of the season all seem to be getting their just desserts. Unfortunately, we are the ones that have to eat the crapcake they baked for us over these last 15 games.
Now we can sit here and eat it while trying to find something good to say about 2009, or we can start thinking about next season. It is usually at this point that I give you the matchups and what they mean for the upcoming series. However, I've decided to give a little analysis of where these starters are going to end up next season.

Sans Brewers pitchers of course. No one cares about Wisconsin.
The Matchups
September 21st - Tom Gorzelanny vs. Braden Looper
Tommy GoGo doesn't have the kind of stuff the guy (Rich Harden) he is replacing today, but he might be just non-crappy enough to take Harden's spot for 2010. What you lose in Harden (strikeouts, untapped potential) is replaced by a quality in Gorzelanny (reliability, durability) that Harden doesn't have. GoGo is a fifth starter at best, but the Cubs could do worse next year.
September 22nd - Randy Wells vs. Dave Bush
Wells has fallen off these last few weeks (he has only won two games since August 14), but we can all agree that Randy has pitched his way into next season's starting rotation. Depending on what happens with Zambrano, Wells will most likely be the future No. 4 guy. I personally think he deserves to be No. 3, but there is a pecking order and seniority blah blah blah.
September 23rd - Ted Lilly vs, Chris Narveson
He leads the team in wins (12). He has the lowest ERA (3.02) of all the starters. He has pitched more innings (170.0) than anyone not named Ryan Dempster. Ted Lilly did not pitch in the 2008 playoffs, nor was he the Opening Day starter of 2009, but he is the ace of this staff. Lou might refuse to give TRL the official title, but everyone knows it. He probably won't be the No. 1 guy next season either, but then again, there have been greater tragedies in the world.
Conclusion
We can all agree these remaining games are early tryouts. Some guys have already made it (Lee, Ramirez) and some are playing a spot next season (Fox, Gorzelanny). But there is also some pride involved here. The friggin Brewers are only 2.5 games behind the Cubs. That team has sucked all year and I refuse to let them finish in second place.
Yeah, it doesn't matter. I know. But do you know what does matter? The continued suppression of all things Wisconsin by the far superior people of Illinois.
Go Cubs.
Tip for Purchasing Tickets Online
Most online brokers and
marketplaces in the secondary market charge a service fee during
checkout regardless of what you are purchasing, such as Chicago Cubs tickets
or anything else. Typically you can walk through the first few steps of
checkout to find out if there will be any additional charges. From
your friends at Neco.com, the home of transparent pricing.