Game Recap: Brewers 7, Cubs 4 -- Game Over for Reals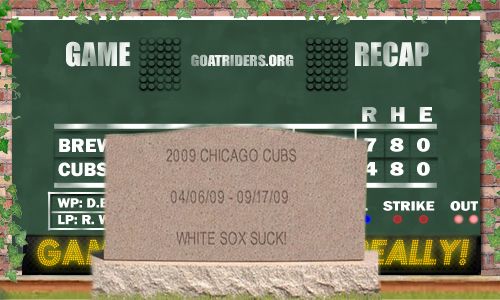 Any shadow of a hope Cub fans had left on their bitter, broken hearts was dashed today after the Brewers pummeled Randy Wells and the Cubs by a score of 7-4.
Actually that pretty well sums it up. We've been writing for a while now about how gassed Wells likely is having pitched more innings than ever before, and it seemed to take the toll on him today as he only lasted 4 innings, giving up 5 hits, 5 walks, and 5 earned runs. The funny thing about how over-looked Wells has been is that a recent ESPN article about rookie pitchers getting gassed late in the season actually omitted him on their list. Douchebags.
Offensively the Cubs nickled and dimed their way into four runs, but really the hitters just didn't seem to have it. So it goes.
Still, I'd like to see Wells pull it together for another win or two, but the likelihood of that happening is on the same level of the Cubs reaching the playoffs. Which, if you notice the tombstone, isn't something we consider to be possible at this point (sorry, Token). But hey -- we've got about 10 more Cubs 101 articles to come, including a whole whack about the Cubs of the last 3 seasons. So, yay?