Game Recap: Brewers 9, Cubs 5 -- Harden hardly unhittable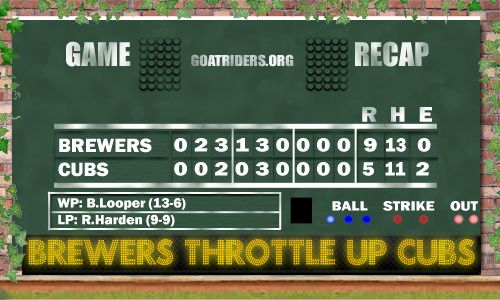 A day after the Cubs beat the holy hell out of the Brewers, Milwaukee came back with a barrage of hits and runs against the soon-to-be departed Rich Harden. The Cubs surrendered 9 runs off of 13 hits, with all the runs coming over the span of 4 innings. But as bad as Harden was in being chased early, Balkin' Dave Patton was the true culprit of mediocrity in that he surrendered 4 earned runs in his 1.1 innings of work. Who wants to bet he never pitches regularly in the majors again after this season?
Other culprits of mediocrity were Aramis Ramirez and Geovany Soto, both of whom were responsible for errors in the third and fifth resulting in 2 unearned runs. But hey, Aramis and Geo also combined to go 3 for 9 with 2 runs scored, 2 runs driven in, and 1 homerun hit between them. So, y'know, it kind of balances out. ...sort of. In the meantime, the Rockies are on the way toward beating the Giants tonight, although they've got a long way to go before victory is assured as the game is only half over.
On a side note, I'd like to address further what has already been written about the growing Chicago hate for Carlos Zambrano, hot on the heels of hatred for Milton Bradley and, by some, Alfonso Soriano. First, while Rob and I have a split opinion on the value of Carlos, I know we both love the guy (minus his faults) and don't want him off the Cubs. We just want there to be another guy who's better heading the rotation.
But ignoring that, while I think Milton Bradley is a freaking idiot, I still believe that he'll be a Cub next year and therefore I hope he'll be a productive Cub. More to the point, I think he should be one. Hating Milton for struggling or not getting a hit every time he's got an RBI opportunity is, dare I say it, stupid.
Even worse, though, to me is the stupid hatred toward Soriano. The Fonz has demonstrated no selfishness, but instead probably has a bit of a low baseball IQ. That's not a crime worthy of hate. He's also struggled all year while battling a knee injury. Based on our shared opinion of Mark "Mary" Prior, playing hurt is an extremely admirable characteristic. And belittling his past success in '07 and '08 as "one month of hitting well" is pretty ridiculous. If the Cubs are a successful team in 2010, the massive, powerful bat of Alfonso Soriano will probably be a big reason for it. And I suspect that if his knee is repaired, then his defense should be a shade better than shitty.
So get over the Cub hate. We'd be stupid to think that Carlos, Milton, Geo, and Alfonso are happy to have sucked so much. And in the case of the Big Moose, Soto, and Sori, we'd be ignorant to forget how successful they've been not just in the past, but as recently as last season. I get that being a Cub fan means, by our nature, that we are often swimming in the negativity, but give me a freakin' break!