Game & Series Recap: Cubs 5, Reds 2 (2 games to 1)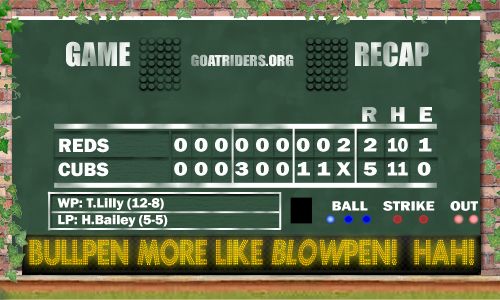 In another universe, the Cubs just swept the Reds, are 74-67 right now and are only 5 games behind the Rockies in the Wild Card. Then again, in that same universe I'm a flame-throwing rap star who, at this very moment, is snorting cocaine off of Eliza Dushku's ass. Since neither of those things will ever occur in this universe, though, let's just return to reality and assess what we're stuck with.
We're stuck with a ridiculous bullpen, a lefty starter who is trying his hardest to reach 15 wins for a third consecutive year, and an aging first baseman who wants to have at least one more glory year in a Cubs uniform before he eventually fades away.
Ted Lilly won his 12th today, allowing 6 hits and 0 runs while striking out 7. He was then relieved by a bullpen mired in a streak of suck. In the past week alone, the Cubs pen has thrown 24.0 innings, and they've surrendered multiple runs 5 times to the tune of a 4.50 ERA. Today's goat was John Grabow, who surrendered 2 9th inning runs.
On the offensive front, the Cubs combined for 11 hits, 3 walks, and 5 runs. The best of the best, again, was Derrek Lee who went 3 for 4 with his 32nd homerun of the season.
Tomorrow the Cubs start their 4 game series with the Brewers. Since Milwaukee has sucked -- but have a shot at finishing at .500 or better -- it should be an interesting series.
Current Record: 73-68
Position in the NL Central: 2nd place, 9.5 games out
Best Possible Record: 94-68
Worst Possible Record: 73-89
Record needed to win 90: 17-4
On Pace For: 84-78