Game Recap: Reds 7, Cubs 5 -- Carlos Marmol isn't the change we are looking for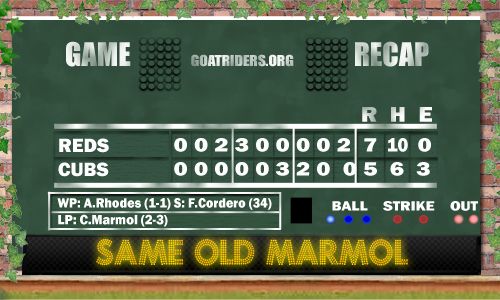 Randy Wells joined today the increasingly full list of Cub starters who struggle to get out of the 4th inning, although the Cubs still almost managed to escape with a win. Our heroes were down 5 runs when, in the middle innings they launched a Geovany Soto-led charge.
The Cubs catcher hit 2 RBI-scoring doubles in back-to-back innings, which -- along with run-contributing hits by Aramis Ramirez and Bobby Scales -- tied the game at 5 until the 9th inning. That was when Carlos Marmol stepped in and proceeded to cough, hack, and vomit up the lead after having gotten the first 2 outs of the inning via a double play. It was at that point that Marmol walked Johnny Gomes and Kevin Barker, surrendered a 2-run double to Drew Sutton, and to add injury to insult plunked Paul Janish. And that was the way it ended, with Carlos Marmol doing a Walk of Shame off the mound after he managed to get a strikeout to end the inning.
On a side note, I have to admit that sometimes I want to read Dusty Baker's excuses as to why the Reds have sucked so badly these last few years. But really, I can't do it. I just can't bring myself to read his words. Still, if you're a Reds fan and you've stumbled across this website, (here are a few Google keywords to help you get here -- Dusty Baker sucks, Dusty Baker is a fraud, Dusty Baker should be fired, how Dusty Baker tricked the Reds into hiring him, hot MILFS in wild action with a Dusty Baker look-alike) you should tell me if any of the following sounds familiar:
We just don't have the horses, dude.
I'm not saying that the ownership hasn't got me some good players, but in a league with the Cubs and Cardinals they need to open up the wallet a bit ... dude.
I'm sure we've got some young, talented players here who could help us win. But baseball is an earn it game, dude, not a give it game. I can't just give those guys a job. I used to play with Hank Aaron, and it took me a long time to crack that same lineup as him, dude. Anyway, I gotta give my guys (aka: the veterans on the team) their at bats so they can make their bonuses, but if these kids can earn their way into the lineup (magically without getting actual play time) then you bet I'll play them.
We never had a lot of young talent in San Francisco or Chicago, it was always just a good group of veterans. That's why I got this unfair reputation of not starting rookies, dude.
And that's Dusty Speak 101 for you right there. Reds fans, we pity you, honestly. We wouldn't wish Dusty Baker on our worst enemies ... not even the White Sox/Cardinals.