Series Preview: Cubs vs. Reds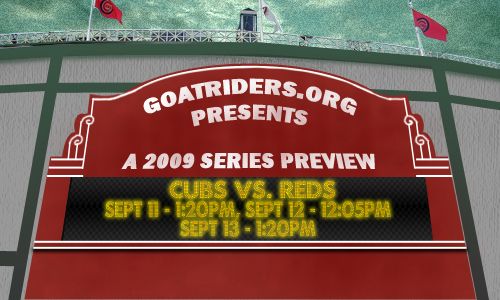 Overview
Why do I love the Cincinnati Reds? Simple friends. They are a team with so much young talent, yet they are being run into the ground by a manager who overuses their arms and refuses to use their skill in the field as long as a subpar veteran is available instead. Life sure must suck in the Queen City. At least they had "Hard Knocks", right? That show was sweet.
The Cubs have had their fair share cupcakes recently, and this weekend will be no different. Unfortunately, this is all for not as the teams that the Cubs need to catch keep winning (Last 10 games: St. Louis 8-2, Colorado 9-1, Cubs 6-4).
However, the Cubs are in position to offer two scenarios to their bipolar fan base.
For the pessimists, it is over. The Cubs will not catch the Rockies or Cards. It's nearly impossible. Feel free to drown yourself in beer or to thrown on your favorite Bears jersey in preparation of a football-induced hibernation.
For the optimists, the Cubs still have a chance…mathematically speaking. The schedule is loaded with easy W's and it only takes one big winning streak for the Cubs to potentially get back into this at the very last second. Let's...go…Cubs…(starting slow clap).
Pick your poison Cubs fans. Personally, I prefer to have a few drinks and start yelling at the umpires inappropriately for no reason Rep. Joe Wilson-style.
The Matchups
September 11th – Justin Lehr vs. Rich Harden
Last time the Cubs saw Lehr, he threw a complete game shutout on four hits. Since then, things have been getting worse for Lehr (0, 1, 3, 6, 5, 4…earned runs given up in consecutive starts since August 5). Sounds like a young Reds pitcher to me.
Last time the Reds saw Harden, he threw 6 innings giving up two earned runs in the loss. It wasn't a bad effort for Rich and he still got 9 strikeouts, so I wouldn't expect much from a Reds team that lacks real coaching. Let the Hackfest begin.
September 12th – Johnny Cueto vs. Randy Wells
In three starts against the Cubs, Cueto is 1-2 with a 4.45 ERA. In three starts against the Reds, Wells is 2-0 with a 2.70 ERA. Nuff said.
September 13th – Homer Bailey vs. Ted Lilly
Bailey is 3-0 with a 1.67 ERA in his last four starts. Wow-zah. But his name is Homer for crying out loud. Could there be a worse name for pitcher?
Lilly has been a steady beacon of consistency since coming of the DL. He has struck out 78 batters and only walked 15 in his last 92 innings pitched. That's some serious control brother. His middle name is Roosevelt. Bad ass.
Conclusion
In the immortal words of Chad Ochocinco, "Child, please."
The Cubs should easily be able to pick up at least two games and continue their quest to a 90-win season. Although they will probably not make the playoffs even if they get there, at least my level of depression will be upgraded from "crippling" to "oppressive."
Go Cubs...and Braves (playing the Cards) and Padres (playing the Rockies).

Tip for Purchasing Tickets Online

Most online brokers and
marketplaces in the secondary market charge a service fee during
checkout regardless of what you are purchasing, such as Chicago Cubs tickets
or anything else. Typically you can walk through the first few steps of
checkout to find out if there will be any additional charges. From
your friends at Neco.com, the home of transparent pricing