Game Recap: Cubs 6, Reds 4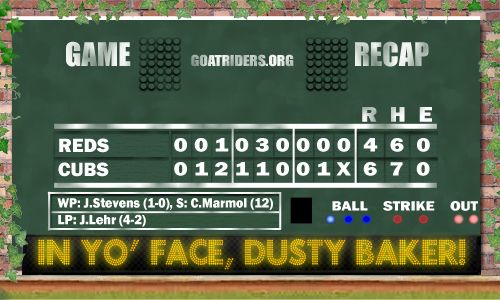 Geovany Soto, where have you been? They must have confiscated his reefer at the airport or something, because the Cubs second-year catcher brought his hitting cleats to tonight's game. By that I mean he went 1 for 3 with a sacrifice fly and a solo homerun, which makes this game for Soto quite an achievement. (At this point we'll take anything.)
Soto's 2 runs, coupled with a 3-RBI day from Aramis Ramirez, gave the Cubs just enough offense to overtake a Reds team hell-bent on Rich Harden domination. The Cubs starter burned through 104 pitches in just 4 innings of work, walking 5 and striking out 6. His totally craptacular performance paved the way for Jeff Stevens to notch his first-ever big league victory, which he managed to do by pitching a single inning of 3-hit, 3-run baseball. In other words, much like how you don't want to tell your kids about how they were conceived before you and your spouse got married, Jeff Stevens will probably not want to describe in intricate detail to his kids the way Johnny Gomes teed off on him like it was the Homerun Derby in Jeff's first-ever big league win.
Still, it was enough for the Cubs, who otherwise saw a good outing from their bullpen. Aaron Heilman shocked the world by pitching 2 innings of perfect baseball (true, he didn't come in with runners on) and Carlos Marmol stepped in to earn his latest Mitch Williams-like Save ... he got 'er done on 28 pitches, 12 of which were balls, 1 hit, 1 walk, and 2 strikeouts. Guh.
Meanwhile, at this moment the Rockies are losing to the Padres in the 8th inning by a score of 1 to 0. IT'S GONNA ...

Update: 7:50AM
...be a blown lead for the Padres. Colorado 4, San Diego 1. Sweet Jesus, the Rockies are tough!