Game & Series Recap: Cubs 8 Pirates 5 (3 games to 0)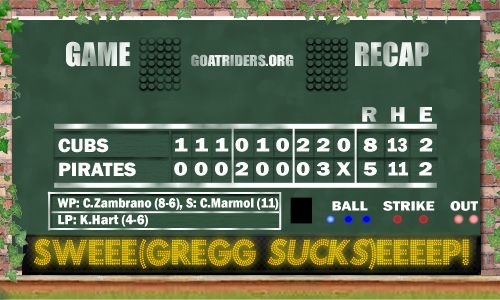 Here's a sad fact for you -- the last time Carlos Zambrano won a game, Kevin Gregg was still the closer for the Cubs.
Since then, Gregg completely imploded (although some Cub fans probably wish he'd do us a favor and explode his way right off the team), Milton Bradley went totally insane (as did some of our readers), and the Cubs fell from contention. Still, Chicago managed to sweep the Pirates, which is about as surprising as rain on a cloudy day.
It all happened primarily thanks to a Cubs offense that combined for 13 hits and 7 walks, including multi-hit days from 5 different players. In particular, Micah Hoffpauir had a too-little, too-late performance to remember: he hit his 9th double and 10th homerun of the season while drawing 2 walks to boot. After the game, Cub players were scouting nearby town houses with the hopes of moving into Pittsburgh permanently so they could tee off daily on the crappy Pirates pitchers.
Carlos, meanwhile, gave the Cubs 6 innings, allowing 5 hits, 3 walks, and 2 runs while striking out 8. Naturally the bullpen held strong, except for one Kevin Gregg who served up a 3 run homer to Ronny Effing Cedeno. Hey, Gregg, when you're giving up homeruns to that jaggoff, it's over.
The Cubs are off tomorrow before traveling back to Chicago where they get to take on the mediocre Reds. Can you believe that Dusty still has a job there?
Current Record: 71-67
Position in the NL Central: 2nd place, 11.5 games out
Best Possible Record: 95-67
Worst Possible Record: 71-91
Record needed to win 90: 19-5
On Pace For: 83-79