Game Recap: Cubs 9, Pirates 4 -- Let's Play Two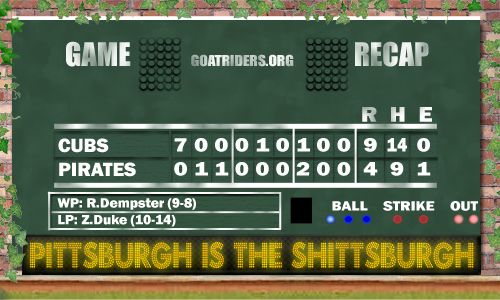 The Pirates are a team I wish the Cubs could play at least 50 times a year. They're the Mos Eisley of the baseball world, at least in the sense of being "wretched," and today the Cubs took some time to get to know them in the Biblical sense, as they started out the game with 8 straight hits to take a lead they wouldn't even come close to losing.
The end result is 9 runs, 8 against Zach Duke (anybody remember when he used to dominate the Cubs? Yeah, me neither) and while Derrek Lee managed another two hits, this time none escaped the ballpark. Instead the Cubs relied on a total team effort, collecting 14 hits and 4 walks against Pittsburgh, with 6 different Chicago players driving in runs -- and 3 of them drove in 2.
As far as Dempster goes, while he took a page from Kerry Wood's old playbook and knocked in a run as well, he wasn't exactly a model of superiority on the mound. Clownsevelt made it into the 7th, but he surrendered 8 hits and 4 earned runs. Still, it was enough for Dempster to collect his 9th win of the season, which means he's got about 4 chances to reach double digits. Woo-hoo?
The Cubs play to sweep tomorrow. We should be thrilled, I suppose. I'm just happy to see the personal accomplishments ring up. It is ridiculously important to me that Dempster and Zambrano both reach 10 wins, much as I would love to see Milton Bradley bat .275, Kosuke Fukudome bat .280, and Micah Hoffpauir reach 10 homeruns. After all -- the Cubs are 7 games out of the Wild Card. Christmas is canceled, the kitchen is closed... it's over.