Series Preview: Cubs at Pittsburgh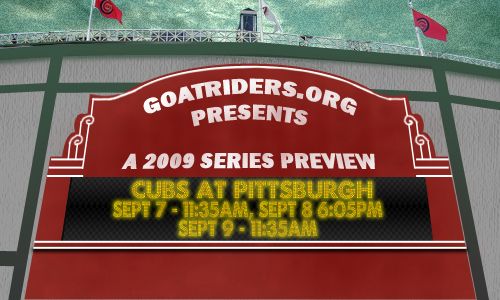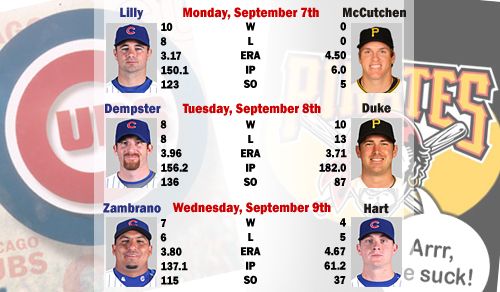 Overview
It's the Cubs against the Pirates ... one team is suckier than we ever imagined they could be, and the other team plays in Pittsburgh. I'm pretty sure Rob is there for at least some of these games, hopefully he can provide us with some feedback on his experiences as the week progresses.
Match-ups
Ted Lilly vs. Daniel McCutchen
One looks like Bill Murray. The other has a name that belongs in the wild west. While Lilly is better than Sheriff McCutchen, it's just been one of those seasons for the Cubs.
Ryan Dempster vs. Zach Duke
It's the bad luck ace against the guy who, back in Dusty's day, used to dominate the Cubs with a kind of ruthless authority. It just goes to show how incompetent Dusty was that he couldn't seem to teach his players how to hit lefties. Seriously. Brutal.
Carlos Zambrano vs. Kevin Hart
Since joining the Pirates, Kevin Hart is 1-4 with a 6.35 ERA. In other words, he fits in there perfectly. Carlos, meanwhile, joins Ryan Dempster in a quest to escape the season with more than 9 wins ... a 10-win year would hardly be something brag about for the multi-kazillionaire ace, but with only about 5 starts to go for him he very well might miss the mark. Which would be pathetic.
Conclusions
On the road or not, the Cubs should dominate these jabrones. But will they? Stay tuned to find out! (Or, I dunno, maybe you could do something with an actual chance of entertainment and enjoyment, like spending an afternoon catching up with your incontinent elders, or something.)
Tip for Purchasing Tickets Online
Most online brokers and
marketplaces in the secondary market charge a service fee during
checkout regardless of what you are purchasing, such as Chicago Cubs tickets
or anything else. Typically you can walk through the first few steps of
checkout to find out if there will be any additional charges. From
your friends at Neco.com, the home of transparent pricing.