Game Recap: Cubs 5, Mets 3 -- Derrek Lee, you're my hero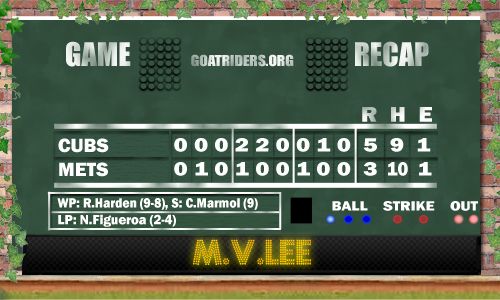 I wouldn't be surprised if the Cubs managed to play about .500 ball from here on out -- which in itself would be disappointing if only because against so many crappy teams you'd think they could do much better than that.
Yesterday's game, for example, was one in which the Cubs should have won, and did. But considering that their opponent was a luckless pitcher who belongs nowhere near a competitive baseball team, maybe the Cubs should've scored more than 5 runs. As it was, the only reason they scored that many was thanks to Derrek Lee, who hit 2 homers and drove in 3 runs -- elevating his homerun total to 29, or 9 more than he had in many more at bats last year.
Lee's production -- coupled with a two-run shot by Aramis (of which Derrek was on base for, giving him a share in all offensive success the Cubs had yesterday) was all the support Rich Harden needed. Harden only managed 5 innings on just over 100 pitches, where he surrendered 7 hits, walked 1, and impressively struck out 10. I'm honestly not sure how the hell he managed to throw 20 pitches an inning when he only walked 1 guy -- he must have had a lot of full counts.
The Cubs play later today for the series win -- which they should be able to achieve -- although lord knows it'll be tougher than it should be.