Series Preview: Cubs at New York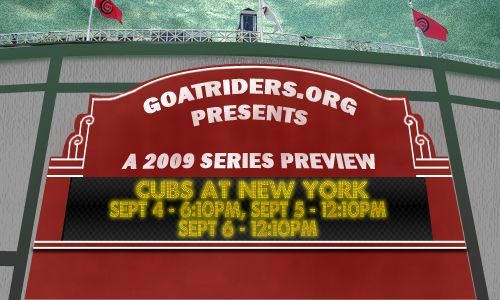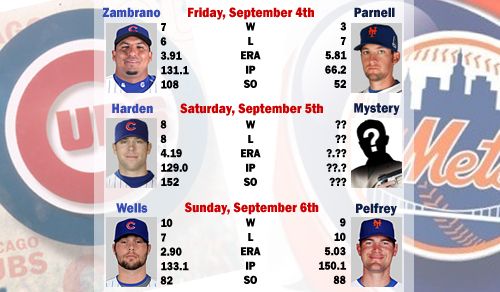 Overview
Two percent. That's the chance coolstandings.com gives the Cubs of making the playoffs. Baseball Prospectus is slightly better at 2.8 percent.
Some you are still holding out hope for a 2ish percent chance at the playoffs, but I'm just hoping Lou will bench Soriano.
How many times is he going to let this guy burn us offensively and defensively before he realizes it's time to give guys like Jake Fox and Sam Fuld more playing time?
Soriano just can't play, even worse though, he might not want to play. I'm tired of seeing a bunch of players out there who look like they don't care. Lou told Milton Bradley earlier in the season he wasn't a ballplayer. Well why don't you check out the rest of the team?
Put the guys out there who want to play and who have something to prove. Piniella has already done this with Koyie Hill by banishing Geo Soto to pinewood Purgatory. Now make this a team-wide plan. What do we have to lose at this point?
The Matchups
September 4th – Carlos Zambrano vs. Bobby Parnell
In my humble opinion, no one deserves the boo-treatment this season more than Zambrano. He is being out-pitched by a guy who traditionally can't stay healthy, a guy who didn't even pitch in the playoffs last season, and a guy who started the season in Iowa. In his two "starts" since returning from the DL, Z has given up 11 earned runs over 7.2 innings. Ace my ass.
The Cubs faced Bobby Parnell in his last start and roughed the guy up. Nine hits and eight earned runs over 4.2 innings – not pretty. Like I said in the preview for the Mets series at Wrigley, Parnell isn't that great on the road. Alas, he is less sh!tty at Sh!tty Field. Opponents are hitting .271/.348/.392 at home. Still not very good, but they are a lot better than his road numbers…trust me.
September 5th – Rich Harden vs. Nelson Figueroa (according to the Chicago Tribune)
Harden finally came back down off of his high against the Astros and pitched much more like the Rich Harden we all know and get frustrated with. Although he struck out nine 'Stros, he also gave up five earned runs and walked six guys. Six! The Mets strikeout the least of all NL teams, so it could be a tough night for a guy who relies so much on K's.
Another game against the Mets and another pitcher the Cubs have faced recently. Figueroa threw a gem at Wrigley going 7 innings and giving up only one run on six hits. He also had 10 strikeouts. But don't fear the Fig my friends. He sucks it hard in NYC. He has a 6.87 ERA at Citi Field as compared to 1.32 on the road.
September 6th – Randy Wells vs. Mike Pelfrey
See, this is what I'm talking about. Randy Wells has been pitching for his Major League life all season and I think we can all agree he has earned a position in next season's starting rotation. Randy is a perfect example of the kind of player I want on my Cubs team. I want a guy who wants to win and feels like he has something to prove. Right now, we have too many asshats (Z, Sori, Dempster, Bradley) who are satisfied with their abilities. Wells is a perfect example of a guy who can succeed despite not having the best physical talents or hype.
It looks like Pelfrey is starting to lose his command. In his last two starts, he gave up five walks (both season highs) and lost both games. The Cubs don't draw a lot of walks or have a particularly high team OBP, but we've seen this team display some patience before. Make Pelfrey throw strikes guys. Sometimes the offensive game plan just writes itself.
Conclusion
The Mets are about as bad as a team the Cubs will face for the remainder of the season. While I enjoy watching them beat up a bunch of minor leaguers as much anyone else, this series offers Lou another chance to get a head start on 2010 by finding out who WANTS to play.
Lou might or might not be here next season, but he certainly can have an impact on the team that will take the field come April if he would just pull his head out of Soriano's ass.
Go Illini…(errr)…Go Bears…(getting closer)…Go Cubs.
Tip for Purchasing Tickets Online
Most online brokers and
marketplaces in the secondary market charge a service fee during
checkout regardless of what you are purchasing, such as Chicago Cubs tickets
or anything else. Typically you can walk through the first few steps of
checkout to find out if there will be any additional charges. From
your friends at Neco.com, the home of transparent pricing.