Doubleshot -- Game Recap: Mets 6, Cubs Blew ... er, 2. GameCast: September 5th at New York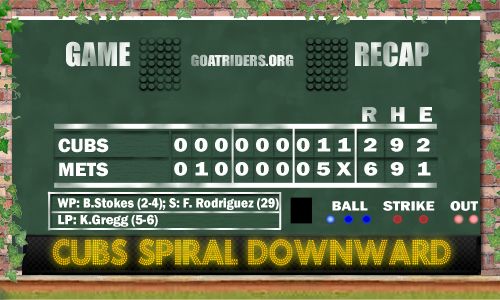 Due to time constraints, laziness, and because I think it looks kind of cool, I'm going to combine yesterday's ugly recap with today's scag-like GameCast.
So. Your team is struggling for offense and you have one guy who's been hitting the ball decently. Do you:
A) stack the lineup to give him as many opportunities as possible to hit with runners on?
B) find your second best hitter on the team and bat that guy behind your "one guy" in order to create an illusion of protection?
or C) give him the day off.
Lou picked "C," and the Cubs lost again 6 to 2. At least it wasn't the fault of Carlos Zambrano, who was recently accused of having "quit" on the season. (I have a feeling that if you told Carlos to his face that he was a quitter, he'd probably punch his hand through your head.) The Big Moose tossed 6 innings, surrendered 3 hits -- 1 a solo homer -- and struck out 7.
Jeff Baker tied the 1-0 game in the 8th by knocking in Crazy Milton, and that was when Kevin Gregg stepped in and completed his own personal circle of suck. Gregg allowed the only 2 men he faced to reach, and when John Grabow relieved him the former Pittsburgh reliever apparently started delivering his pitches underhand or something, because the Mets beat him as if they were Ike Turner high on coke and he was a getting-lippy Tina.
The two pitchers -- Gregg and Grabow -- faced 7 men while getting none of them out -- they instead allowed 6 hits, 1 walk, and 5 runs to score.
The Cubs bullpen. Yay?


GameCast
Rich Harden vs. Nelson Figueroa
Story-lines
The. Cubs. Suuuuuuuck.
Ignoring that, with expanded rosters (it's September already?) the Cubs have all sorts of individual guys for us to root for. For example:
Bobby Scales -- Chicago's 31-year-old rookie is back for the first time in nearly 3 months. I get why he was demoted to begin with -- it was an odd-man-out sort of deal -- but his numbers really aren't bad for a defensive sub. in 26 games and 59 at bats, Scales is batting .254 with 2 doubles, 1 triple, 3 homeruns, and 7 RBI. He's got a .343 OBP and a .818 OPS.
Micah Hoffpauir -- He returned to the team for the first time since early Sept. As anybody not swimming in a bleached-out pool of optimism could tell you, he's had the kind of year one might expect from a guy in his late 20's who'd never had hitting success before just the previous season. He's batting .228 with 8 homers, 25 RBI, and an OPS of .691. Anybody still think he could land the Cubs Adrian Gonzalez?
Andres Blanco -- Rob's favorite Neifi-clone is back for the first time since early August. He's batting .240 with a .298 OBP, and a .631 OPS.
There are a few other September additions -- Justin Berg, for instance -- but I think we'll leave it at this for now. I wonder which of this bunch of riff-raff will play today?

Who's Hot
Based on yesterday's play, we could probably make an argument for Jeff Baker -- he went 3 for 3, raising his AVG to .291 on this season. Milton Bradley also went 2 for 5, and is flirting with a .270 AVG.

Who's Not
Micah Hoffpauir picked up right where he left off before his demotion, going 0 for 4 and dropping his AVG to .228.
Conclusions
If the Cubs are in the midst of a proverbial downward spiral, then they will have plenty of time to meet the Mets down there. New York is already at the bottom of the barrell. As screwed up as Milton Bradley is, and as frustratingly insane as Carlos Zambrano can be, the Mets may be the most dysfunctional organization in baseball right now. So, I guess we've got that going for us. Which is nice.