Game Recap -- White Sox 5, Cubs 0 -- Blame The Fonz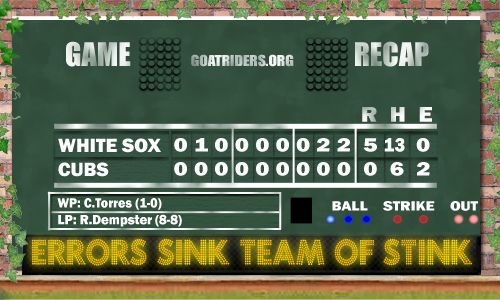 Let's be honest for a second. The Chicago Cubs -- versions 2007 and 2008 -- would have never made the playoffs had it not been for Alfonso Soriano. In the first two years with the team, despite nagging injuries and cold starts to the season, Soriano was an offensive sparkplug and a defensive secret weapon in left field. It's true that he would bungle the occassional catch -- and I believe that that's easily fixable if Lou spoke with him about using both hands -- but Soriano's cannon arm effectively ended more than one threat when players tried to test him.
This season, though, he's been a disaster. He started out with the hottest bat on the team, but probably since May it's been a long, unending slump. He's dropped more than his fair share of fly balls and people are worrying that in the third of his eight-year contract he has already degraded into the Bust Status that he's inevitably headed toward no matter what.
Or -- I know it's crazy -- maybe there's more going on with him than we know about. Perhaps his knee injury -- something that has become increasingly noticable in the past month or so -- has affected his offensive and defensive game. Maybe his inevitable bout with surgery this winter will repair these problems and he'll revert to his former role of offensive juggernaut next year. Or you can just declare him a bust, voice your hatred for a guy who has been playing hurt all year long -- you might as well wrongly toss in terms like "selfish" and "team cancer" while you're at it -- and act like the kind of blame-assigning douchebag who would also probably turned on Derrek Lee for going into a slump when his daughter went blind in '06.
Either way, coupled with the defensive bunglings of Jake Fox, Soriano's outfield error yesterday resulted in a Cubs loss. Ryan Dempster -- known also as The Unluckiest Pitcher On Earth -- went 7 innings and allowed 0 earned runs (but 3 unearned).
All told it was a route, and the Cubs offense had its belly rubbed and was put to sleep -- they managed only 6 hits and 0 walks. Just remember that this was all Alfonso Soriano's fault.