Series Preview: Cubs vs. Astros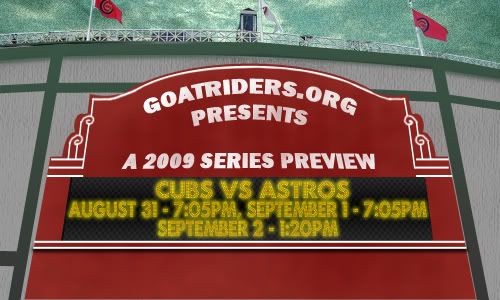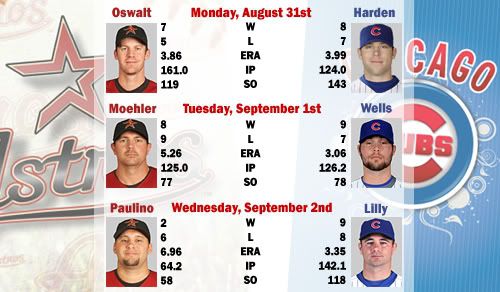 Overview
From Steve Stone's Twitter page on August 30: "A few cub fans have given up on this years playoffs. Take a close look at the schedule and the rockies current losing streak. Still a chance"
Stoney never struck me as an optimist, but I guess there are still some of you out there that have faith in this team. If believing the Cubs can win the Wild Card (5.5 games back) helps you sleep at night, then by all means continue to believe.
I, on the other hand, am about to walk out the door to watch the Cubs play tonight in what I consider a meaningless game. It will be the first time in 3 years that I have been to a meaningless game at Wrigley Field. One only knows where that can lead...
As I said in my preview for the Mets series, 2010 is already here for me. While it appears that the team is set outside of one or two additions for next season, I have to disagree with Lou's philosophy in the waning hours of 2009. Instead of playing veterans like Soriano, Fontenot, or even Soto, why not give guys like Fox and Fuld more PT. I'd particularly like to see Fox get some starts at catcher.
Anyway, the AssBlows roll into town for three games. Sweet fancy Moses do I hate these guys. From their team name to their uniforms to Miguel Tejada, I cannot stand Houston's baseball team. Like the Nationals though, the Astros have a high team batting average (.264, fifth best in the NL), so this could be a tough series for a pitching staff that looks more hittable everyday.
The Matchups
August 31st – Roy Oswalt vs. Rich Harden
Before his last start in St. Louis, Oswalt hadn't lost a game in more than two months. By "ace" standards, Oswalt isn't having that great of a season, but Houston's offense hasn't exactly been helping him out. He is 0-1 with a 3.68 ERA against the Cubs this season.
After being claimed by Minnesota, Harden remains with the Cubs for the rest of 2009. As such, the Cubs have been enjoying the kind of dominance that only a pitcher auditioning for a new job can provide. Harden gave up two earned runs to the Nationals in his last start and he remains the most dominant pitcher on this staff since the All-Star Break. Harden's overall ERA now sits at 3.99 while his second half ERA is 1.80.
September 1st – Brian Moehler vs. Randy Wells
MLB.com's probable pitchers section says Brain Moehler has a "far better" ERA on the road than at home. So a 4.35 ERA is "far better" than a 6.14 ERA? That's like deciding between being punched in the face or kicked in the nards. They both suck, but I guess one is "far better" than the other.
Everyone was talking about how the Nationals ripped up Zambrano in his first start back from the DL, but Wells didn't have the best performance against D.C. either (five runs, five hits, four walks). It was the first time a "bad" team had any real success against Wells all season, so one might think that Randy is starting to get tired as the year comes to an end. Can't fault the guy for that. He is given everything the Cubs asked of him and more.
September 2nd – TBA (ESPN says Felipe Paulino) vs. Ted Lilly
In his three starts since coming back from the DL, Lilly has a 1.86 ERA but no wins. Lilly is 3-0 against the Astros this season with a 3.57 ERA. This will be the first time he faces them at Wrigley in 2009. Did I mention his ERA at home is 1.92? "W" time.
Conclusion
I'm going to wrap this up quickly so I can practice my heckling skills on my dog before the game starts. Carlos Lee has no idea what he's getting himself into tonight.
The Astros are a junk team that the Cubs should be able to win at least two games against starting with tonight. I only worry about the Wells start.
For those of you still holding out hope, the Rockies/Giants (Wildcard leaders) both have the night off while the Braves/Marlins (ahead of the Cubs in the WC standings) play each other. The Cubs have a solid chance of passing either the Braves or the Marlins this series while also picking up some ground on the leaders. Sleep tight optimists.
Go Cubs.
Tip for Purchasing Tickets Online
Most online brokers and marketplaces in the secondary market charge a service fee during checkout regardless of what you are purchasing, such as Chicago Bears Tickets, Chicago Blackhawks Tickets, or anything else. Typically you can walk through the first few steps of
checkout to find out if there will be any additional charges.. From
your friends at Neco.com, the home of transparent pricing.