Series Preview: Cubs vs. Mets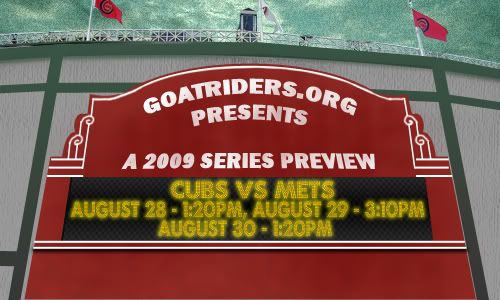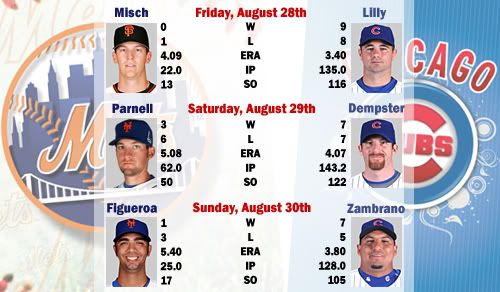 Overview
Do you remember where you were for the first game of the 2009 season? I was at a bar (big surprise) in Champaign watching the game with a few close friends. Soriano hit a lead-off home run, Zambrano was dealing for six innings, Ramirez smacked a dinger, Fontenot had three hits, a unicorn was born, and everything was right with the world.
Now only a few months later, we're playing mop-up games against the equally disappointing Mets after losing a series to the worst team in baseball at home. Eff-in-a.
If you read past the title of this post, then I commend you. I know many of you have given up on 2009 (myself included), so I'm surprised you're taking the time to read on as opposed to buying Jay Cutler Fatheads.
There really isn't much to look forward to as NYM rolls into town. The Mets are throwing what has essentially become a minor league squad onto the field as most of their stars are hurt.
Still, there is some value in these games. First, you could drink yourself silly in public if you happen to be attending (Remember, beer in stomach and not on Hawaiian people). Second, you can teach children sitting nearby that being a Cubs fan will most likely result in their early deaths due to stress-related issues. Or third, you can start over.
Since I believe the Cubs will have an extremely similar lineup in 2009 as they will next season due to some untradeable contracts, let's start getting ready. Welcome to Opening Day 2010.
The Matchups
August 28th – Pat Misch and Ted Lilly
Misch will be making his first start for the Mets this season and his first start since last season. He isn't exactly known as a strikeout pitcher (13 K's in 18.2 innings), so the Cubs should be able to make contact all day. Also, Misch is from Northbrook. To the people of Northbrook: your mall sucks because it's too clean. That freaks me out. Stop it.
TRL has been a beast at home this season going 6-1 with a 1.86 ERA. His goal in this game should simply be to shut down the Mets like I want to shut down those stupid ass Shaq/Ben Stein Comcast commercials. This game is all about focus and mental toughness for Lilly.
August 29th – Bobby Parnell vs. Ryan Dempster
Of all the starters the Mets will be featuring in this series, Parnerll has the most experience (and I use that term lightly) with 62.0 innings pitched. Too bad he has an 8.82 ERA as a starter in 2009. Woof. Lefties have a .389 OBP against Parnell and opposing hitters have a .404 OBP when he pitches on the road. That might have something to do with the ERA. Just saying.
Although Dempster's ERA is just barely above 4.00, the guy has really struggled this season. Some attribute this suckery to the fact that Dempster has never pitched back-to-back successful 200-inning seasons. Speaking of which, Dempster has thrown 143.2 innings of baseball this year (the most on the team). The guy just isn't a horse and he can't be relied on as such.
August 30th – Nelson Figueroa vs. Carlos Zambrano
It's almost insulting the lack of talent New York has on their team. Could you imagine if we were Mets fans? I'm not sure if we're better off though. Most of the major contributors on the Cubs are healthy yet they still suck. No excuses there. Anyway, Figueroa enjoyed success against the Fish because he said they were unfamiliar with all five of his pitches. Cubs have seen Figueroa a bit and he is 0-4 against them. Rut Roh.
Many will argue that Milton Bradley has been the biggest distraction on the 2009 team, but I'm going to give that honor to the Sullivan-branded Lay-Z-Boy. Bradley's a nice player with a lot of talent that I like, but Zambrano's stuff is just untouchable, yet he is unable to maximize even half of his potential. I would say Z should have a good game against this pea-shooter lineup, but who knows what will happen after the Nationals incident.
Conclusion
I've never considered myself a "Wait 'til Next Year" type of guy, but I think we're all resigned to the fate of this team. Unlike most teams that don't reach the playoffs though, I don't see the Cubs making any big changes in the offseason. Aside from a few bench spots, a couple bullpen roles, and perhaps a rotation gig, this team is pretty much set for next season.
So why not start treating it like next season? Say hello to your 2010 Chicago National League Ballclub.
Go Cubs.
Tip for Purchasing Tickets Online
Most online brokers and marketplaces in the secondary market charge a service fee during checkout regardless of what you are purchasing, such as Chicago White Sox tickets or anything else. Typically you can walk through the first few steps of checkout to find out if there will be any additional charges.. From your friends at Neco.com, the home of transparent pricing.