Game & Series Recap - Nationals 5, Cubs 4 (1 game to 2)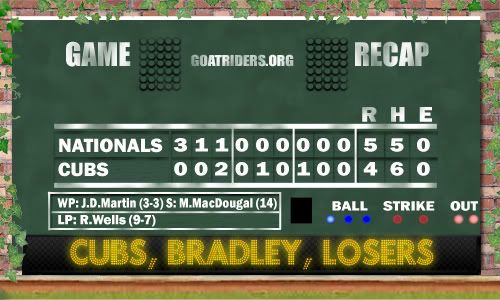 The Cubs managed to score 4 unanswered runs yesterday, but it was too little, too late as the Nationals had already run up 5 against Randy Wells.
I'm too lazy to look, but it's a fair guess that Wells has probably never thrown so many innings in his career. Then again, he's in his mid 20's and while endurance/conditioning might be an issue, his arm should be able to handle the load. Nevertheless, the last month of the season will be interesting if only because he might be getting gassed out. But at least the Cubs bullpen managed to pitch 2.2 innings of scoreless baseball. Small victories, folks. That's what we're left with.
Offensively, the Cubs saw homeruns from Aramis Ramirez and Derrek Lee, the two of whom were responsible for 5 of the team's 6 hits. Kosuke Fukudome, Alfonso Soriano, and yes, Milton Bradley combined to go 0 for 13.
Speaking of Bradley, since he's a hot topic of debate these days...
When he signed with the Cubs last winter, like a lot of fans I was supportive of the idea. I was impressed with his offensive production in Texas, and knowing full-well that he'd struggle to ever play at 100% for a full season I believed that he would give the Cubs more offense in the time he was healthy than any other option on the market. And yes, I knew that he was volatile and fragile, but my argument was that if he started the year out well then the fans would never turn on him and it would be a good situation.
Of course, he started the year something like 1 for his first 23. But even before then, the story-hungry press had already written plenty about whether or not Bradley would be able to handle the fans in Chicago. It's kind of like if you started a new job and from the first day there were people in the office reminding you not to lose your temper when the paper jams. You could be a very well-constructed individual, and yet, after a few months the steady warnings to not lose your temper when the paper jams, you might be inclined to do just that. It's called a self-fulfilling prophecy, and the media made this an issue long before it was one. I like a lot of the guys who cover the Cubs clubhouse, but they need to owe up and acknowledge that while they didn't build the car they certainly turned the ignition.
Anyway, all of that said, Milton Bradley is a prick. He is a giant, turgid dildo (and I would love to be quoted saying that in a venue he might read -- c'mon, Paul Sullivan, Bruce Miles, don't let me down). He is, quite frankly, a chip-on-his-shoulder idiot.
Milton, sir, the fans have booed you and treated you with hostility because you have sucked. It has nothing to do with the color of your skin or where you come from. I speak as a person whose all-time favorite player is Andre Dawson, whose first baseball jerseys were those of Ernie Banks and Sammy Sosa, whose current favorite pitcher is the tempromental Carlos Zambrano, whose wife would probably leave him for smooth-looking Derrek Lee. I don't think you're an asshole because you're black. I think you're an asshole because you're an asshole.
Like Todd Hundley before you, and Will Ohman after Todd Hundley, and yes, like LaTroy Hawkins and Jacque Jones, you are an excuse-making jackass who has come nowhere near earning the contract you've signed. And like Hawkins and Jones, you would rather play the race card than acknowledge that we can't stand you because you are a miserable person.
As somebody who supported Bradley and defended his signing, I recognized at the time that this could be an issue but I was hopeful his play would prevent that from happening. I was wrong. And if I should happen to find myself in the right field bleachers anytime over the next two seasons where Milton remains a Cub, so long as he continues to complain, pity himself, and cast off the blame, I will boo the ever loving shit out of him. He will be the first Cub I have ever actively booed at a game, and he has earned it.