Series Preview: Cubs vs. Nationals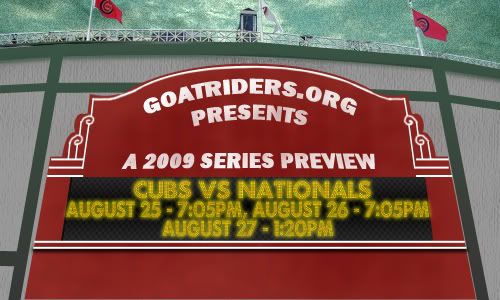 Overview
Check out these two stat lines…
NL Team #1: 13th BA, 10th OBP, 10th OPS, 7th BB
NL Team #2: 3rd BA, 2nd OBP, 4th OPS, 3rd BB
Based on these numbers, who would you think is the team with a record above .500 and who is the worst team in all of baseball? That's right my friends. NL Team #1 is your Chicago Cubs and NL Team #2 is the Mighty Nationals of the District of Columbia of Washington.
While I'm just as tired as you are of watching the Cubs get knocked around like a Tijuana prostitute, they can't think they are just going to roll over the Nationals (yes, I did just type that despite their 44 wins) because they can hit suckas.
Cubs pitching actually did a decent job for the most part over the road trip, but the offense needs to catch up. Scoring against the Nationals should be easy. The operative word of course being "should."
The Matchups
August 25th – Garrett Mock vs. Carlos Zambrano
It appears that Mock has been used in relief for most of the season aside from the last month. He started against the Cubs on July 19 in DC and gave up 7 runs (4 earned) over 3.1 innings. However, Mock is 2-1 in August and has allowed 6 earned runs over the last 21 innings. Then again, three of those four starts came against the Pirates, D-Backs, and Reds.
While Big Z vowed to take his abdominal workouts more seriously in order to combat the back spasms that have kept him on the DL for much August, I think we're much more likely to see Zambrano walking around with a 6-pack inside of his stomach than with one under his shirt. I'm feeling a short outing in this one despite Z's success when coming back from the DL.
August 26th – J.D. Martin vs. Rich Harden
John Dale Martin is a rookie. He has only pitched against one team with an above .500 record this season. He gives up lots of homers (7 in 34 innings). John Dale could become a very close friend of the Chicago Cubs.
On July 4, Harden gave up 7 earned runs in one game. Since the All-Star Break, Harden has only allowed 7 earned runs total. On July 4, Harden struck out one batter. Since then, he has struck out at least six in every start. I don't know what has gotten into this guy, but Rich has got his groove back.
August 27th – John Lannan vs. Randy Wells
With his 4.03 ERA, Lannan is the "best" starting pitcher the Nationals have this season. After a dominating June and a decent July, Lannan has finally remembered what team he is on. Lannon has given up at least four earned runs in his last three starts (7,4,5). Opponents are hitting .299 with a .885 OPS against Lannan when he is pitching on the road.
After I called out Randy last week for not pitching particularly well against above .500 teams, he goes out and throws a solid game against the Dodgers. Unfortunately the Cubs were only able to get one hit and Wells got the loss. Just like old times, right? This will be only the second time Wells pitches at Wrigley this month. He hasn't lost at home since July 12.
Conclusion
Of the final 24 games the Cubs play at Wrigley this season, 23 come against teams with losing records. I would think the Cubs NEED to win at least 20 of those games to even have a chance of sniffing the postseason.
Tonight's starting lineup is as such (via Twitter)… riot, milt, lee, rami, fuky, sori, soto, font, Z.
Can't say I agree with keeping Fuld, Fox, and Baker out of the lineup, but if these guys can't score runs against the friggin Nationals then it we don't deserve to be in the playoffs.
Go Cubs.
Tip for Purchasing Tickets Online
Most online brokers and marketplaces in the secondary market charge a service fee during checkout regardless of what you are purchasing, such as Chicago Bears Tickets, Chicago Cubs Tickets, or anything else. Typically you can walk through the first few steps of checkout to find out if there will be any additional charges.. From your friends at Neco.com, the home of transparent pricing.