Game Recap: Dodgers 2, Cubs 1 -- One Hit?! GameCast - August 21st at Los Angeles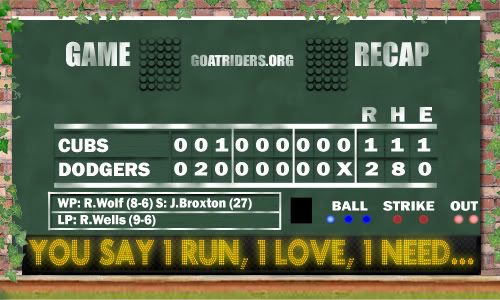 (forgive me for the U2 reference in the graphic)
Randy Wells must be having flashbacks to earlier this season. After surrendering only 2 runs, both unearned, the Cubs starter received his 6th loss of the season, this one to the Dodgers. (Then again, the unearned runs came off a double surrendered to Dodgers pitcher Randy Wolf, so...) The Cubs, meanwhile, managed only a single hit. Between their games last year and this season, Chicago and L.A. rarely have high scoring games and I have to wonder if it's just chance or if perhaps the Dodgers just have the Cubs' number.
And with that, we could have the shortest recap of the season. I mean, what else is there to really say about the game?
In other news, though, Carlos Zambrano is set to return shortly. He's coming back to a hostile environment. Fans have begun turning on him (hi, Rob), members of the media have a low opinion of him (hi, Paul Sullivan), whereas jamokes like me think he's a bit of a gift horse whose teeth we shouldn't be counting.
Basically, my take is this -- and Rob, if you respond to this article at all I hope you respond to this part -- the Ace as Responsible Leader is kind of a myth. There are plenty of examples of amazingly good pitchers who were selfish douchebags that teammates hated, with Roger Clemens coming to the forefront in that case. I'm sure even Rob would agree that Clemens was ace material all day long, but he was also a selfish asshole prick who wouldn't even travel with the team on days he wasn't pitching. Maybe what Carlos needs is to actually grow more selfish, become obsessed with his body and his statistics, and build himself into an iron machine of muscle and pitching domination. Just a thought.
(And, incidentally, when Roger Clemens was in his late 20's he was a pudgy, out-of-shape douchebag ... just like Carlos. Keep an eye on this comparrison.)
Now for the GameCast portion of this -- known also as Kurt is a lazy bastard who won't be around much today, so he's doing it now:
Ted Lilly vs. Charlie Haeger
Story-lines
We like to call this "playing with a fork in them." That's what the Cubs are doing. At this point the season has jumped the ghost so much that they might actually finish the year with a losing record, which would make them -- even with all the injuries -- the most under-achieving team in history.
I would like to very strongly suggest that if the Cubs enter September with a losing record -- or if they are damn close on Sept 1 -- then perhaps they should very strongly consider shutting down Ted Lilly, Aramis Ramirez, and anybody else who qualifies as a member of the walking wounded. There's no point to them playing and delaying their rehabilitation time if all they are playing for is pride.

Who's Hot
Nobody's hot. Not even Cub fans are hot at the team anymore, it's more of a sense of resignation.
Who's Not
The list is long and painful. Let's skip it.
Conclusions
Win, lose, meh.
With the sale of the team, I think it's fair to say that everybody's focus is now on what the Ricketts will do, what the team will look like, and what will happen next once this season finally, mercifully ends. In the meantime, at least these losses don't hurt so much.