Series Preview: Cubs at Los Angeles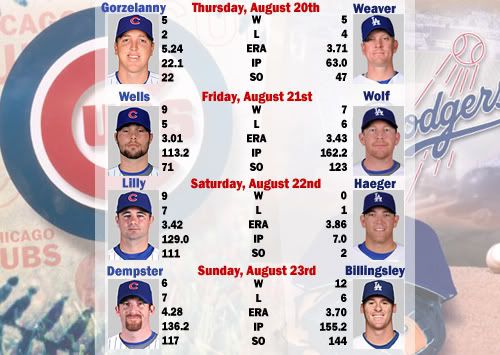 Overview
Did we give up when the Germans bombed Pearl Harbor? Hell no. But then again, I'm just about ready to jump ship as the next guy.
Did you think the Cubs' remaining schedule was more cupcake-loaded than Geovany Soto's ass? Well guess again suckers. Now the Cubs head to L.A. to take on the National League-best Dodgers in a four-game series. Oi.
On the positive side, the Dodgers have actually been playing fairly craptacular baseball as of late. They have gone 7-11 in August and only have a 3.5-game lead over the Rockies in the N West. If ever there was a time to play the Dodgers, I guess now good.
The Matchups
August 20th – Tom Gorzelanny vs. Jeff Weaver
Until Tommy GoGo pitches a decent game against a good team, I will never agree he belongs in this rotation. Now he has a chance to convince me otherwise. The Dodgers have been jacking up left-handed pitching with a .289 team batting average and a .813 OPS against southpaws. Good luck Gorz.
Kurt Note
With Zambrano pitching in Peoria this weekend, Lou's going to have to figure out Gorzo's role pretty soon. A tremendous outing from him tonight would go a long way toward creating a cluster-f**k in the rotation. So book it. Done.
The last time Jeff Weaver made it through the fifth inning was June 20 against the Angels. So expect this game to be another short outing. The Dodgers used four bullpen pitchers in their final game against the Cardinals last night, so maybe the Cubs can take advantage of a semi-tired group of relief pitchers.
August 21st – Randy Wells vs. Randy Wolf
When I look at the body of work Wells has put together this season, I see a guy who has won the games he was supposed to win. Wells dominates bad teams like every good pitcher should do. However, against the more talented MLB teams, Wells is only OK. In his 7 starts against quality teams (the Rockies, Cardinals, Braves, White Sox, Twins, Braves again, and Dodgers), he is 2-4 and has given up 20 earned runs in 43 innings. Could be tough night for Wells.
The other Randy threw a gem in his last appearance against the D-Backs in which he went 7.2 innings with 10 strikeouts. Wolf isn't the type of pitcher that gives a hitter nightmares, but he has only allowed more than 3 earned runs once in the last two months. In all of those appearances, he has not pitched less than 6 innings.
August 22nd – Ted Lilly vs. Charlie Haeger
I've already mentioned how the Dodgers have fared against lefties this season, but TRL came off the disabled list looking good. I guess the rehab starts helped (Yes, I'm still mad about the way Lou and Hendry handled Dempster's return). Lilly already faced the Dodgers this year on May 29 at Wrigley. He went 7 innings giving up 1 run on 4 hits.
Haeger has made one appearance this season in which he went 7 innings against the Cardinals giving up 3 runs on five 5 hits (2 of which were homers). Haeger is a knuckleball pitcher and (correct me if I'm wrong here) he will be the first knuckleballer the Cubs face this season. It could be an adventurous night for Milton Bradley and his "keen eye" for the strike zone.
August 23rd – Ryan Dempster vs. Chad Billingsley
The Good: Dempster struck out 10 against the Padres in his last start. The Bad: He gave up 4 runs on 8 hits and took the loss. Opponents are hitting .296 against Dempster since the All-Star Break and his suckiness is becoming more apparent with every start. For those of you that are advocating Lou to move Dempster back to closer, forget about it. There's no doubt Dempster would take on the assignment if asked, but his contract is too big to move him back to the 'pen.
On a staff that doesn't have a clearly defined ace, Chad Billingsley is about as close as it gets. His overall stats look good (12-6, 3.70 ERA), but Chad has had his issues with control ad endurance this season. He has walked four or more batters 10 times and hasn't thrown more than 100 pitches since June 10. If the Cubs can wait him out, then they could have a big night against Billingsley.
Conclusion
The last time the Cubs were this far out of first place was back in July 2007. Think about that for a second. Two Thousand Friggin Seven.
Unlike that situation though, time is running out rather quickly on the 2009 Cubs and it isn't getting any easier this weekend. The Dodgers don't have a particularly strong rotation for a team with 71 wins, but the lineup can be terrifying.
Dodger Stadium is a pitcher-friendly park, but it still isn't as cavernous as Petco, so hopefully Lou can pocket his excuses for the weekend.
This is one of the few times left in this season when the Cubs will actually have to play good baseball in order to win a series. Some signs of life would be welcomed, but I'd settle for a 2-2 split.
Go Cubs.
Tip for Purchasing Tickets Online
Most online brokers and marketplaces in the secondary market charge a service fee during checkout regardless of what you are purchasing, such as Chicago White Sox tickets or anything else. Typically you can walk through the first few steps of checkout to find out if there will be any additional charges.. From your friends at Neco.com, the home of transparent pricing.