Series Preview: Cubs at San Diego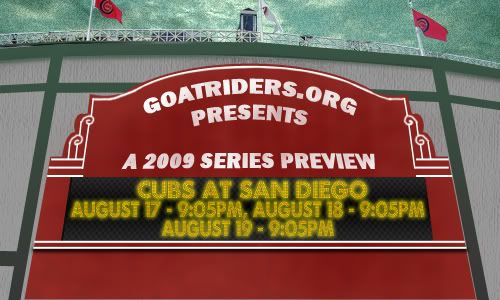 Overview
The lazy, fat, stupid losers return to the Whale's Vagina for the second time this season where they were swept in a 3-game series back in May. Remember that series reader? It was when the Cubs scored a total of 3 runs throughout the entire weekend. Gives a man nightmares just thinking about it.
Of course now the Cubs are fighting for their postseason lives and the Padres are fighting for the best fares on plane tickets to golf resorts. Needless to say, this matchup is a bit one-sided.
Let's not sleep on the Padres though. They did give the Cardinals two tough games in St. Louis and they have a legitimate power hitter in their lineup (Adrian Gonzalez) unlike the Pirates.
For those of you scoreboard watching, the Cardinals will be just up the road in LA to take on the Dodgers for three games. If Mannywood can't win at least one of those games, then I will burn Dodger Stadium to the ground. Then again, the series will feature Carpenter and Wainwright.
Regardless, this is the best chance the Cubs have at catching up for the next month until they go to St. Louis on Sept. 18…

The Matchups
August 17th - Ted Lilly vs. Kevin Correia
Lilly returns from the disabled list as he makes his first start since July 20. Everyone knows TRL has had a tough time pitching on the road, but he is fortunate enough to take the mound at one of America's largest national wildlife parks. Lilly has only walked more than 3 batters once all season and I'm guessing he will enjoy success if he doesn't give the Padres any free bases. San Diego has the second lowest team BA in the National League. Make them earn it.
With Jake Peavy gone, Correia and his 4.51 ERA take over as the team's interim ace. Although his overall stats aren't particularly impressive, Correia has only allowed more than three runs once in his last eight starts. He's also coming off of four consecutive quality starts and has a 2-1 record.
August 18th - Ryan Dempster vs. Cesar Carrillo
As it's been pointed out on this blog, Dempster basically went "Rocky IV" on us last season during his contract year and put up some sick stats. Then he got big money and returned to the .500 pitcher he has been for most of his career. Then again, Dempster has never pitched successful back-to-back 200-inning seasons, so maybe the guy is incapable of being a reliable starter. He is 1-2 with a 6.20 ERA in his last four starts at Wrigley, so Demp is probably happy to be at Petco.
He can kill two stones with one bird. The dark is afraid of him. He lives vicariously through himself. He is the Most Interesting Man in the World. OK, not really, but doesn't the name Cesar Carrillo sound like it should belong to the guy from Dos Equis commercials? Anyway, Carrillo was roughed up in his first Major League start by the Brewers. Now he has a 30.86 ERA. That's…interesting.
August 19th - Randy Wells vs. Mat Latos
Nothing cures what ails ya like 17 runs of support and facing the Pittsburgh Pirates. Something tells me Wells won't enjoy the same luxury, but I've been wrong before. Wells has only given up 4 homers and never walked more than two batter while pitching on the road this season. And people wonder why he is so good.
Latos is one of the top prospects the Padres have and he has been dominating since being called up July 19…except for his last start. The Cardinals put up 7 runs against Latos and he was out by the fourth inning. There is no doubt Latos is the most talented pitcher the Cubs will face in this series, but how will Latos respond to his first big league shelling? This could be a matchup of future aces.
Conclusion
You can control being fat. You can control being lazy. But you cannot control being stupid.
Jim Hendry put together a strong team on paper to begin the season, but I think we can all agree the mental toughness is just missing. Hendry might have signed some talented players, but he also signed some thick-skulled morons. A smart PROFESSIONAL athlete doesn't let his body get out of shape. He doesn't raid the food spread after every game like he is going to the electric chair. He doesn't become happy with what he has.
If the Cubs don't sweep the Padres (or at least win two out of three), then I'm not going to blame it on their laziness or their waist sizes. I'll just finally concede that these guys are too stupid to know they are better and more talented than almost everyone they face. Disappointing stuff.
Go Cubs.

Tip for Purchasing Tickets Online
Most online brokers and marketplaces in the secondary market charge a service fee during checkout regardless of what you are purchasing, such as Chicago Cubs tickets or anything else. Typically you can walk through the first few steps of checkout to find out if there will be any additional charges. From your friends at Neco.com, the home of transparent pricing.