Game Recap: Cubs 3, Pirates 1 --- Who knew we could win two in a row?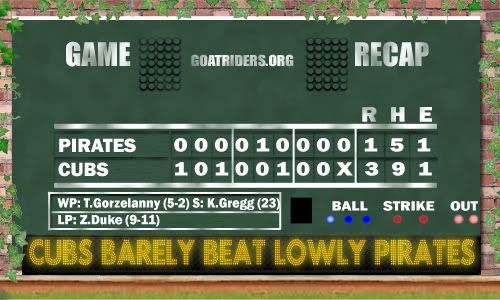 Even we here at GROTA can have internet problems, so I'm going to write the shortest recap in history.
I didn't get to see yesterday's game, but it sounded decent on paper. Instead I was with the wife at The Proposal. I much rather would have seen the game, but she has allowed me to watch about 110 games this year. So, if any GROTA members want to add to the recap, please do so.
Tom Gorzelanny was good enough to get the win (He only threw five innings). Then the bullpen was able to get through four innings to hold on to the win. Jeff Baker provided most of the offensive punch with a RBI single and a solo home run a little later. The other run came off the bat of Gorzelanny, who knocked in Geovany Soto.
The Cubs go for the sweep today, and I will write about that in a few minutes.
Kurt
Apologies for the lateness -- my internet died for the bulk of yesterday, and huge, huge thanks to Chris for stepping up and helping out.
The Cubs have bounced back nicely from those games where they played actual good teams, beating the Pirates for the second straight day thanks to some solid pitching mixed with a few timely hits.
Cub starter Tom Gorzelanny, whose last outing ended abruptly with an injured foot, bounced back to pitch 5 innings, allowing 1 run and striking out 8. He was relieved by Guzman, Marmol, and Gregg -- with Lou still using Angel and Carlos out of order -- who pitched 4 innings of scoreless, 2-hit, 0-walk, 5-strike-out baseball.
As for the Cubs offense, they slowed down from the previous day although they still managed 9 hits and 3 runs, with every regular but Fuld and Fox getting on base at least once. The biggest of the big winners though was Jeff Baker, who went 2 for 4 with an RBI single and a solo homerun.
Baker -- who was born in West Germany but resembles an Asian rail worker -- is batting .333 since joining the Cubs, with 6 doubles, 1 triple, 2 homers, 11 RBI, and a .934 OPS. Perhaps he should see some more play-time for the next little while.
Anyway, the Cubs will try to finish the Pirates a little later today. Go team.