Series Preview: Cubs vs. Pirates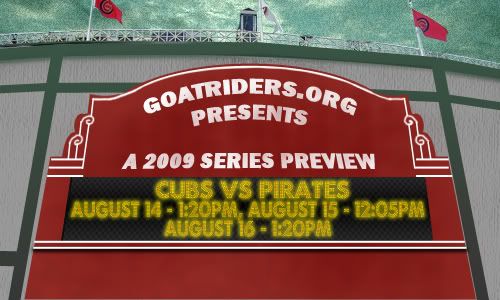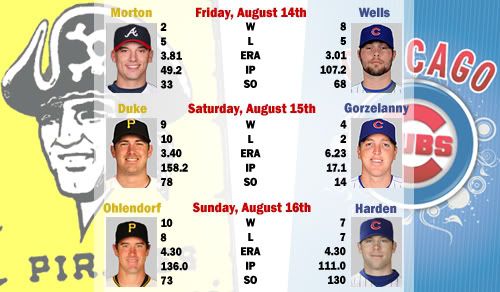 Overview
I'll admit it right here, right now: I listen to sports radio. Shoot me. I know you've all tried it too, so don't judge me.
Anyway, after listening to hours worth of sports talk since the Cubs were swept by the Phillies yesterday afternoon, I must say I'm quite disgusted in the number of Cubs fans who have given up on this team already. You have your right to complain (lord knows we do), but to look ahead at the schedule and say the season is over is just short-sighted. As Steve Stone points out on his Twitter page, 12 of the next 49 games for the Cubs will be against above .500 teams.
While some of those matchups are at the Dodgers, at the Cardinals, and at the Giants, the remaining schedule is very Pirates/Reds loaded. Yeah, we've seen the Cubs crap their pants against playoff-caliber teams, but as long as they get into the playoffs then anything can happen. I don't care if they have to beat up on 12-year-olds in Williamsport to make it to the postseason, just get in.
A series against teams like Sh!tsburgh are the ones I worry about the most though. The Cubs must win. The Cubs must sweep. The Cubs must dominate. Say what you will about this team's ability, but they've consistently shown us they have the mental toughness of a jar of mayonnaise. That's more troublesome than anything else.
The Matchups
Charlie Morton vs. Randy Wells
Morton had a solid outing against the Cards in his last start but he is still a big bag of suck. He especially sucks against lefties (hitting .308/.362/.355 against him) and on the road (opponents hitting .283/.356/.443). However Morton is fairly unfamiliar to the Cubs as they have only faced him once, and we know what the Cubs do against unfamiliar opponents.
Randy had a tough go in Colorado that really wasn't that big of a surprise considering it was against a strong left-handed hitting lineup. He probably would have had a similar result against the Phillies. Since the beginning of June, Wells has not lost back-to-back starts and has won every game in which the Cubs have scored at least 4 runs (aside from this last start in Colorado). Four runs ftw.
Zach Duke vs. Tom Gorzelanny
Duke is about the only recognizable name left for the Pirates, which means he will certainly be traded at some point before July 31, 2010. He has given up at least 7 hits in four of his last five starts, but has only walked more than two batters twice this whole season. The Cubs will have to hit their way on base. That's usually not good news.
Tommy GoGo looked much more like a member of the Pirates than the Cubs in his last start and no one should be surprised. I know we were all jizzing ourselves after his gem against the Reds, but did you really think it would last? Oh Cubs fans, you ignorant sluts. Maybe the Gorz will enjoy some success against a team he is familiar with, but trusting this guy to start a meaningful game is like trusting Johnny Macchione with a can of Bud Light.
Ross Ohlendorf vs. Rich Harden
The Big Dorf Daddy has had a decent start to the second half of the season. He's 3-1 with a 3.07 ERA in his last five starts. Not bad, but not great (especially since three of those starts came against the against the D-Backs, Nationals, and D-Backs again). Ohlendorf did shut down the Cubs earlier this season going 7 innings and giving up 0 runs in a 3-0 shutout. However, the guy seems wildly inconsistent as he will just as easily give up 5 walks as he will give up none.
It was tough to watch Harden pitch so well and the Cubs come away empty handed. Correct me if I'm wrong, but Harden took a perfect game into the sixth inning before issuing a walk and giving up a two-run jack to J-Roll. Harden was all over the place in the first half of the season, but his post-ASG ERA is at 1.95 and he (along with Wells) has been the most consistent Cubs pitcher over the last month.
Conclusion
As I said in the Overview, the pressure is on for the Cubs to sweep. The Cardinals are facing San Diego at home. The Padres won't see Carpenter though, so there is a chance for the Cubs to pick up at least one game this weekend.
With all the injuries and the frustration, my main concern with this team is them losing their focus against a clearly inferior opponent. Ever since Marmol walked in the go-ahead run during the first game against the Phillies, it seems as if this team has just given up emotionally. Maybe the Pirates are what they need to regain their focus…or maybe they are the nail in the coffin.
Let's play a little over/under. The Cubs sit 4.5 back of St. Louis. When you come back on Monday, where will that number be? I say under at 3.5.
Go Cubs.
Tip for Purchasing Tickets Online
Most online brokers and marketplaces in the secondary market charge a service fee during checkout regardless of what you are purchasing, such as Chicago Cubs tickets or anything else. Typically you can walk through the first few steps of checkout to find out if there will be any additional charges. From your friends at Neco.com, the home of transparent pricing.