Game Recap: Rockies 11, Cubs 5 -- hit parade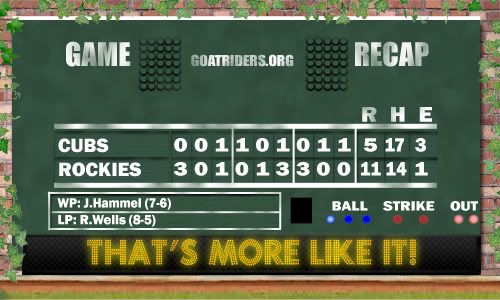 The Cubs and Rockies combined for 31 hits today, although it was Colorado that capitalized the most on their ability to regularly get on base.
In his first ever start in Colorado, Randy Wells got hammered -- going 5.1 innings, giving up 8 hits, and surrendering 7 runs (5 earned) to the wild card contending Rockies. He was relieved by Jeff Stevens, who managed to put it out of reach with his 4 run one inning appearance. Ouch.
Offensively, the Cubs found themselves with a ton of opportunities -- they had runners on in all but one inning all day, but they only managed to nit-pick their runs one at a time and never really got close. Still, every regular but Soriano collected at least two hits, including the 4-for-5 Milton Bradley, who suddenly has his AVG up to .266. Wouldn't it be shocking and somewhat ridiculous if he managed to finish the year near .280?
Anyway. The Cubs lost. As a team, they left 13 men on base, and overall they had 27 different run-scoring opportunities that they squandered. They should have pummeled the Rockies, but instead left the game as sad participants. Still, they will have a chance to even the series tomorrow, which I for one would be perfectly satisfied with.
One other note:
It's come to our attention that Alfonso Soriano's rally-killing strikeout late in the game was a selfish act on his part. I have to agree. I believe that Soriano is a me-first kind of player, although none of his teammates (or even really the journalists covering him) have exposed him as such (despite the enjoyment that seemed to permiate from the Cubs clubhouse and press box whenever Sosa was called out). I believe that striking out to end the rally is exactly the kind of glory that a hound like Soriano seeks, and this is just another example of how his me-first antics are destroying the team.
So let me say to Soriano on behalf of Cub Fan Nation: we're onto your game, buddy! It's only a matter of time now!