Game Recap: Cubs 6, Rockies 5 -- Year over man, year over?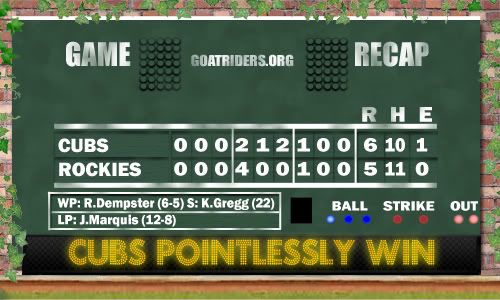 At about 9:30 Chicago-time, thanks to an Aramis Ramirez error, Ryan Dempster and the Cubs squandered their 2 run lead and suffered the dreaded Big Inning.
Clearly, these Cubs were done for. That's what some of us concluded at that point, amiright? They wouldn't come back, and there was nothing stopping the Rockies from beating Dempster around some more in the 5th, or 6th, or until Lou walk-of-shamed him off the mound and into the dugout.
In my head, I saw hardened, cynical Cub fans dancing, proclaiming this as further proof to the verifiable evidence that, sorry kiddies, this just ain't their year. After all, St. Louis won today, and no team has ever overcome a 2-game deficit in early August. The mocking cynic I am, I posted in the ShoutBox "nooo, year over man, year over!"
Except, y'know, it's really not. Putting such weight on any one game, or even any one series, is the sort of things fans do but that doesn't make it right. I have trouble imagining that, when Derrek Lee steps up to the plate with the tying run on 1st base, he thinks "if only we'd won that game against Houston..." before futilely striking out. No, that doesn't happen.
And tonight, when Lee stepped up in the 5th, he wasn't thinking about the burden of the weight we try to put on him. And he hit his 23rd of the year. Then, in the 6th, leadoff and #2 hitters Ryan Theriot and Milton Bradley knocked home 2 runs, and the Cubs were back in the lead. Then, to add insult to safety-net, Kosuke Fukudome hit his 9th homer of the year in the 7th, giving the Cubs the comfort-run they'd need.
After an overstayed Dempster left, the Cubs turned to their bullpen's brightest, who pitched 3 innings of 2-hit, 0-walk, 4-strike-out baseball. The "brightest" line includes Kevin Gregg, who was flawless in the 9th for his 22nd save.
Will the Cubs win tomorrow, or the day after that? Lord if I know. But whether they win or don't, the only context it really has to the season is in terms of whether or not the Cardinals win or don't. No matter what Dave Kaplan -- or even Our Rob -- tells you, if they wanted each little game to have instrumental meaning, then they'd play 16, not 162. That is all.