Series Preview: Cubs at Colorado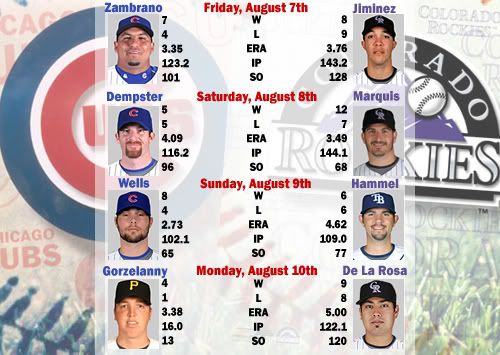 Overview
If you thought the Rockies would be contending for a playoff spot after losing Matt Holliday and inserting Jason Marquis into their starting rotation, then you are a dirty liar. And since I don't associate with liars, I must ask you to please stop reading and leave this site. I'll wait…(twiddling thumbs)…OK, now that all the liars are gone we can get to business.
Since firing manager Clint Hurdle after starting the season 18-28, the Rockies have gone 41-20. Although no player on their team has more than 20 homers (Tulowitzki) or 63 RBI (Hawpe), Colorado is still near the top of the NL in HR (2nd), doubles (3rd), and slugging (2nd).
The Cubs are no slouches with the big bats themselves. They are third in the NL in home runs and have been getting their hit on since the All-Star Break.
The Cubs are 3-3 on their quest to Mordor, errrr, I mean one of their longest road trips of the season and must now head to the Little League park that is Coors Field for four games.
While few of us probably care about the Colorado Rockies or what they do on a daily basis, this is a huge series for the Cubs because of two significant reasons: 1.) The Rockies are one of the top competitors for the wildcard and 2.) The Cardinals are playing the Pirates this weekend. Gulp.
The Matchups
August 7th – Carlos Zambrano vs. Ubaldo Jimenez
Big Z had a big back ache in his last start and was only able to pitch three innings against the Marlins. If Zambrano is dealing, I expect Lou to leave him in to go the distance. But if Lou pulls him after 5 innings (aside from a performance-based reason), then it might be time to start worrying about his durability. Zambrano has only given up 8 homers this season, which should bode him well in this park.
Sounds like Jimenez has a pretty nasty fastball that could top out around 100 MPH, so I'm expect a decent amount of off-speed pitches in this start. Although that plan worked out fairly well against the Reds, I'm not sure it will be as effective in the thinner air. The Great Ubaldo has pitched better on the road this season as opponents are hitting .257 against him at Coors.
August 8th – Ryan Dempster vs. Jason Marquis
Dempster looked much better in his second start coming off the DL, but he still walked four and the Cubs still lost. The Rockies lead the NL in walks, so this could be a recipe for disaster. Not to mention Dempster's lifetime 15.23 ERA at Coors. Woof.
Well well well. If it isn't Mr. Second Half McSuckerson. Marquis is notorious for having terrible numbers after the All-Star Break and I expect nothing different this season. He's 1-1 with a 2.57 ERA so far, but it's only a matter of time until he breaks down and wets his pants on the mound. Most of the homers Marquis has given up this season have come against righties, so that's always good news for the Cubs.
August 9th – Randy Wells vs. Jason Hammel
I was thissssssss close (imagine me with a really small gap between my thumb and my index finger) to purchasing a Randy Wells jersey. All he had to do was pitch a complete game against the Reds. He came up five outs short. Impressive nonetheless. Still ,Wells is almost too good. I'm a bit worried that lefties are batting .276 with a .718 OPS against him. And since five regular starters for the Rockies bat from the left side of the plate, watch out.
Hammel gets pounded by the Mets then shuts down the Phillies. He sucks at home (1-3, 7.20 ERA) and is solid on the road (5-3, 2.81 ERA). I don't understand this guy. As such, he deserves to be destroyed. He's given up at least 4 earned runs in his last four home starts. Let the big dogs eat.
August 10th – Tom Gorzelanny vs. Jorge De La Rosa
Why even give the Cy Young to anyone else? Tommy GoGo has practically got it in the bag according to everyone in the Chicago media. Gorzelanny threw a gem against the Reds and all of the sudden the Cubs have too much starting pitching. People are talking about moving Dempster or Harden to closer so the Cubs can keep Gorz in the rotation. Please. It was a nice start, but let's not go changing our underwear yet because of this guy.
De La Rosa is a completely different pitcher against lefties (.193/.248/.277) as compared to righties (.279/ .362/.494). That's a huge difference. He's never started against the Cubs but has faced them a handful of times in relief. Normally that's a good thing, but then again we saw what Justin Lehr did to this lineup.
Conclusion
Before the Cubs head home to take on the Phillies, they need to get at least two games from the Rockies. I hate to keep bringing up the Cardinals, but 19 of their next 22 games come against teams that are below .500. Scoreboard and schedule watching mode is now in full effect.
I'm not overly impressed with the Rockies' pitching, but that offense is scary. They don't have a monster in their lineup like the Phillies, Cardinals, Dodgers, or Brewers have, but their order has very few weak spots from top to bottom.
I'm putting this one on the Cubs offense. If they can get out to some earlier leads against this very average starting pitching, then it will put pressure on the Rockies' hitters and hopefully turn them hack-happy.
Also, this is the closest the Cubs will be playing to God all season, and everyone knows the Big Guy is a North Sider. Divine intervention is always welcome.
Go Cubs.
Tip for Purchasing Tickets Online
Most online brokers and marketplaces in the secondary market charge a service fee during checkout regardless of what you are purchasing, such as Chicago Blackhawks tickets or anything else. Typically you can walk through the first few steps of checkout to find out if there will be any additional charges. From your friends at Neco.com, the home of transparent pricing.