Game Recap: Rockies 6, Cubs 2- Oh nooos!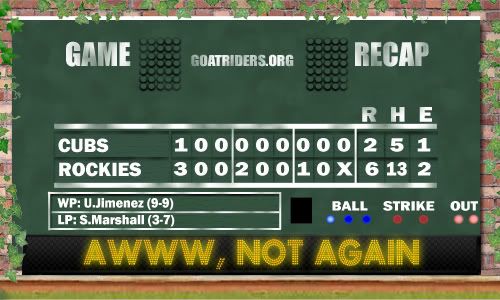 The Cubs lost last night, thanks in part to Zambrano getting scratched due to Wood-like back spasms, with Sean Marshall and Jeff Samardzija replacing him and getting beaten like drums.
Apparently, the fact that Marshall and the Shark were beaten so soundly by the Rockies is evidence that these Cubs cannot possibly be "the team that wins it all." I liken this to a person learning that the market is down and tens of millions of Americans are unemployed, only to conclude that it's not a temporary problem and that we're all gonna die.
True enough, the Rockies beat the hell out of the Cubs. At the same time, the Cardinals won and, despite having lost one more game than the Cubs so far, are now 1 game ahead of them in the standings. But rather than use this loss as an example proving that unlike any other team which may make the playoffs these Cubs cannot possibly win if they get there, I might suggest that we keep our heads a little and note that Marshall was used at the last second in an emergency start, that Samardzija should not -- and probably would not -- be on a Major League roster, especially in October, and that no single game, win or loss, can tell anybody anything about a team's chances in the playoffs.
So, seriously, get ahold of yourselves and man up. Game Deuce is at 7 central and I'll have that recap up before I go to bed tonight.