Series Preview: Cubs at Cincinnati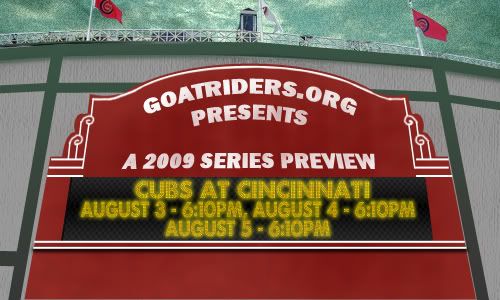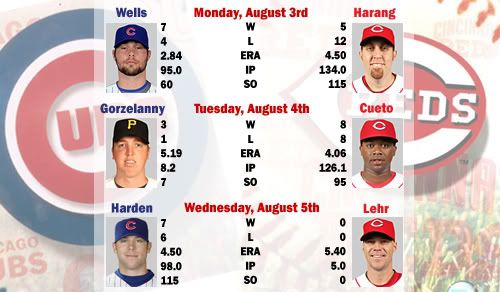 Overview
No number of expletives can justify how I feel after that series with the Marlins. The Cubs continue to find unique ways to break our hearts. That's all I have to say regarding the incident yesterday.
Anyway, let's focus on something that is sure to lift your spirits: the Cincinnati Reds.
I've heard the world "freefall" being used to describe the current situation Cincinnasty has been in for the last week, but I believe that is giving the Reds too much credit. Saying they are in a "freefall" implies that they were at some high point, but even when they were competing for the division lead the Reds were average at best. I believe "sinking" would be a better term…or unrestricted and unmitigated crapitude.
The last time the Cubs and Reds met was at Wrigley Field not long ago. The Cubs swept Dusty Baker's squad and completed what now seems like a Mortal Kombat-esque fatality. I'm fairly sure I heard Lou Piniella yelling "FINISH HIM!" at some point during that series.
Although my knuckles have finally stopped bleeding enough so I can type after a punched a tree for several hours in the wake of the Savebot's "pitching" performance, my anger still burns deep. By blood lust must be quenched. Bring on the matchups.
The Matchups
August 3rd – Randy Wells vs. Aaron Harang
In his last 12 starts, the Harangatang has gone 0-7 and hasn't won a game since May 25. To be fair though, he hasn't been getting much offensive support. In those seven losses, the Reds have only scored more than 2 runs twice. Still, Harang is getting shelled, especially by righties, who are hitting .309 against him.
Is there any starting pitcher who you have more confidence in right now than Randy Wells? On a pitching staff with so much talent, it amazes me that the guy who started the season in Iowa has become our most consistent performer. Wells needs to eat some innings in this game and give the bullpen a break – much like he did last week. If the Cubs go up big, is a complete game too much to ask for here? Probably, but if Wells does go the distance, I will finally buy his jersey. That's a promise. Plus the pen is going to need some rest considering what is happening in the next game…
August 4th – Tom Gorzelanny vs. Johnny Cueto
Hey Johnny, you know that other young pitcher on the Reds named Edison Volquez? Looks like Doctor Dusty is recommending him for a little elbow surgery. Does this story sound familiar to you? If it does, then guess who's next buddy. I love foreshadowing. In Cueto's last four starts, he has giving up at least 9 hits. Not surprisingly, he didn't win any of those games.
I don't want to alarm anyone, but Gorzelanny hasn't won a game as a starting pitcher since June 24…2008. The Gorz has pitched only in relief this season while in the Majors and has too small of a sample size to determine what will happen in this start. The Reds have hit lefties well (although not for power), so I expect to see lots of guys on base for Cincinnati. Lou might as well start warming up the bullpen now.
August 5th – Rich Harden vs. Justin Lehr
Lehr makes his second career start after walking seemingly everyone in his first game of the season. If control is his issue, then it should be a good night for the Cubs. Len and Bob have pointed it out several times throughout the season, but the more walks the Cubs get, the better the offense plays (side note: no sh!t idiots). If Lehr is going to give the Cubs free bases, who are they to say no. They don't want to be rude house guests after all.
Last week I mentioned that perhaps Rich Harden was a vampire. Well, I was wrong. He's a friggin alien. Who is this guy pitching for the Cubs and what did they do with the real Rich Harden? Although he got a no decision in his last start, Rich did collect 11 strikeouts for the third time in his career. The Reds don't strikeout much though, so Harden will need to keep the ball on the ground to be successful.
Conclusion
The matchups above are designed to analyze starting pitching and, to an extent, hitting. I've focused mainly on those two elements during most of the series previews that I've written. Clearly the bullpen was the focus in the last series though.
I expect the Cubs to hit and the starting matchups seem to favor the Cubs, but nothing is more important than the bullpen settling down and gaining some confidence. Right now I'd rather be given a prostate exam using a baseball bat than watch Gregg close out a game, but getting Savebot's confidence back should be Lou's primary focus. Cubs win two of three from the Reds.
Go Cubs.
Tip for Purchasing Tickets Online
Most online brokers and marketplaces in the secondary market charge a service fee during checkout regardless of what you are purchasing, such as Chicago Blackhawks tickets or anything else. Typically you can walk through the first few steps of checkout to find out if there will be any additional charges. From your friends at Neco.com, the home of transparent pricing.